Have you ever been asked "Can you think of some catchy wording for this invitation?" and all you got is ummm.  Trust me, we've all been there.  That's why we came up with some clever invitation wording for our top designs.
Let's count down the top 5 of our most popular sample wording from our invites…..
5. Little Nurse On The Way.  This is one of our newer designs to our baby shower  profession collection.  We made this design to mimic a nurses order clipboard.  The diagnosis is who the shower is for. The signs and symptoms are how happy we are that a baby is on the way. The RX is the party location. The appointment is when the event is. Finally, Stat is the registry info.  Using our preview system makes personalizing this invite really easy. You just need to replace the details of the event leaving the rest as is.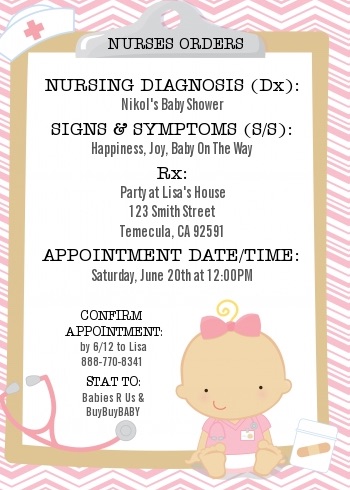 4. Baby Sprinkle Baby Shower Invitation. Have you heard of a sprinkle shower?  It's actually a pretty cool concept.  It's a shower for your second or third baby.  It's just a few necessities the mom will need upon the babies arrival. You don't need big ticket items, unless the mom is in need of that.  Maybe bringing diapers, wipes or a baby blanket would be a good idea. Things that will be personable to the new baby are also great ideas.  A sprinkle shower simply celebrates a new life and addition to a growing family!  We have a cute saying on our baby sprinkle invitation:
 Diapers, Bibs and Bottles Galore
Amanda and Troy are having one more
Big sister Landry has plenty to share
This is a "sprinkle" to show them we care
A sweet baby boy is on the way
Let's celebrate before the big day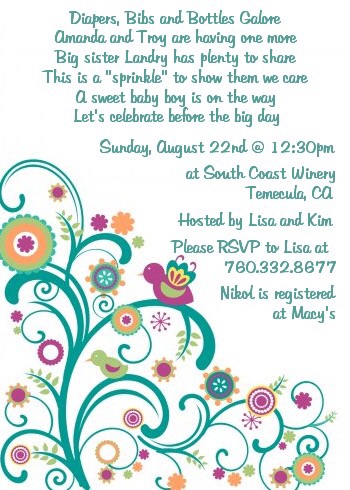 3.  Camo Military Baby Shower Invitation.  We love the concept of this invitation. We support our troops and appreciate them defending our country. It's available in all ethnicities and upon special request the colors can reflect a specific branch.
The opening line reads:
MISSION ACCOMPLISHED
BRIANNA HAS AN ARMY BRAT ON THE WAY…
You report to a baby shower and your deployment is the event date. You rsvp to the general.
It's easy to have fun giving orders on this invitation.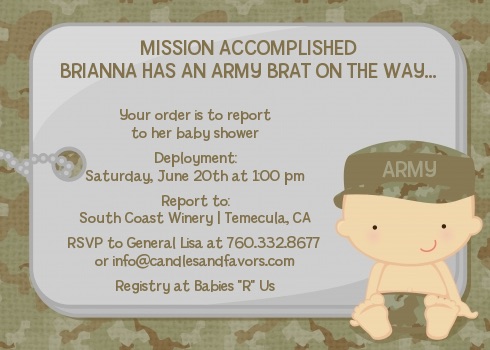 2. Nursery Rhyme Baby Shower Invitation. No matter how trendy invitations have become this classic will never go out of style.  We feature five classic nursery rhymes on this invitation.  The opening paragraph reads:
Hey Diddle Diddle,
The Cat And The Fiddle
We Are Over The Moon
To Celebrate
Nikol Smith
And Her Bundle Of Joy,
Who Will Be Arriving Soon!
Another great idea for a shower is :
In Lieu Of A Card Please Bring
Your Favorite Book For the Baby's Library
We see this on many invitations.  It's such a great idea to start the baby's library.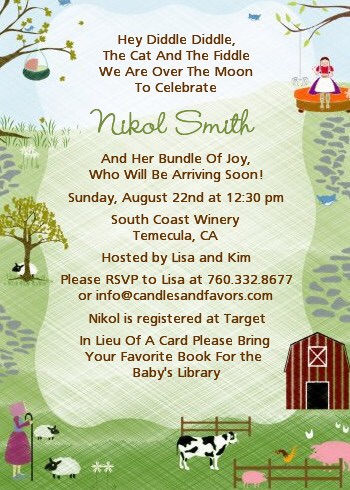 Recently a customer designed special wording for a first birthday. We loved how it turned out.
Pat-a-cake Pat-a-cake
Baker's Man
Hurry to play as fast as you can!
Little Miss Leah is celebrating her 1st birthday with food & cake and curds & whey
Will the dish run away
with the spoon on the
5th of October in the afternoon?
Little Boy Blue hopes to see you…
The party shall start promptly at
2:00 at the Nielsen Home
Three Blind Mice
see how they run
please call to say
you'll join in the fun!
1. Dr. Seuss Inspired Baby Shower Invitation. Our most popular invitation and our number one choice on our list. This invitation has complete custom wording from start to finish. It might seem a little wordy for a invitation, however it's a perfect rhyme for our Seuss Inspired Invitation.
The bump that's on
Nikol believe us, it grew!
The time is at hand for
an invitation to you,
for a shower we're throwing
before she is due!
June is the month, 20th is the day
On Sunday at 1 o'clock, oh we will play!
It's a baby shower, so come on and say…
"Congratulations, Nikol!
Your baby is on the way!"
You could not, would not,
want to miss a celebration such as this.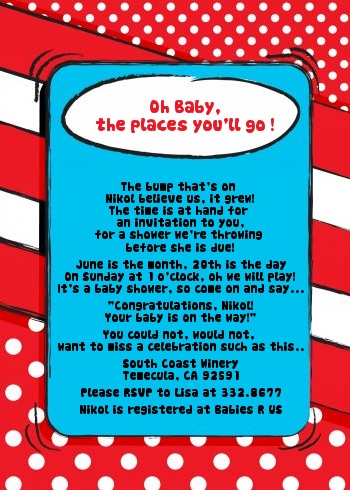 We continue to be creative when it comes to the wording of our invitations. Some of our inspiration is from our fabulous customers.  Most of our designs have cute and clever opening paragraphs that most people stick with. Anything to help with the process of personalizing your invitation makes us feel like we are part of your special occasion. Hey if you have something clever you would like to share, drop us a line.  We would love the opportunity to showcase your creativity.