Yah for fall. It's our favorite time of the year. Can't wait to see the leaves start to fall, crisp air smell and Apple Cider. That is why this Fall Owl Baby Shower Party is our favorite theme. This party was so much fun to celebrate the mommy to be in her favorite fall colors.
This is a side view of the dessert table. Let's dive in and show y'all the goodies we put together.
We designed the entryway so when our guests arrived they immediately knew that it was going to be a fall baby shower. The letters were hand-painted to match the cute ribbon we incorporated throughout the party decor. The first thing we do when we decide on the party theme is, look around our homes to see what we can recycle for the party. No need to buy extra "things" if you can repurpose them.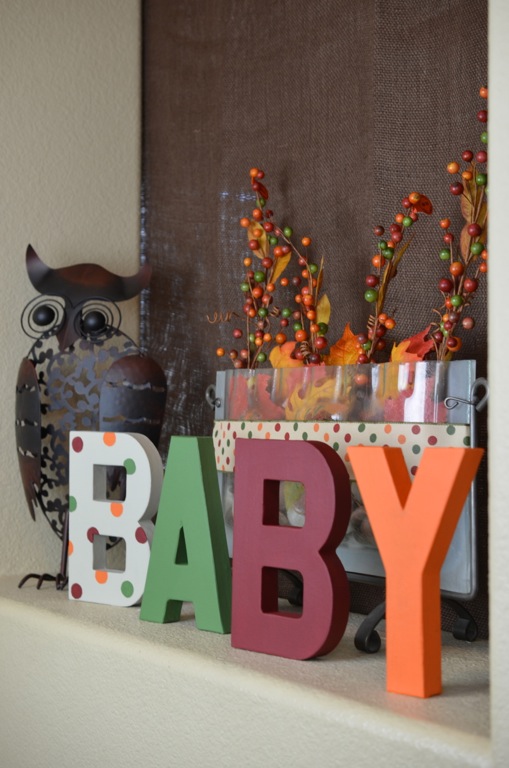 Can we talk about the desserts for a moment?  This time of year with Halloween right around the corner, you have plenty of options at your local grocery store. We made our own pushpops using store bought cake mix and frosting. Using a scalloped hole punch we then added our 1.67 round stickers that read "Look Whoo's Having A Baby!" As you can see, we used some existing glass vases that we found in our kitchen and then we just needed to purchase a few other sizes from our local craft store.  We continued to use the cute fall ribbon from our entrance way to the dessert table.
We just love this awesome wall and table set up for our Fall Owl Baby Shower Party. I do have to say, this project was a little time consuming, however, the pay off was so worth it. Can we just take a minute to admire the beauty of our favor table. Again recycling from our home, we used existing boxes and wrapped them in paper gift wrap in front of our tree. Using our fall ribbon to accent the table finished off the look we were hoping for.
We also created two different free download games for our Fall Owl Baby Shower Party Theme. We are going to share that on our next post, so be sure to look for that. We offer water bottle bands and bag toppers as cute favors.
Shop our entire Fall Owl Baby Shower Party