Our Ready To Pop Pink Baby Shower is a perfect theme for a little girl on the way. The black and pink combination with a touch of popcorn is a modern twist on a classic pun on words.
We got really creative for this dessert party. From the wall decor to the table design, no detail was left unturned. Now of course the possibilities are endless with things that POP.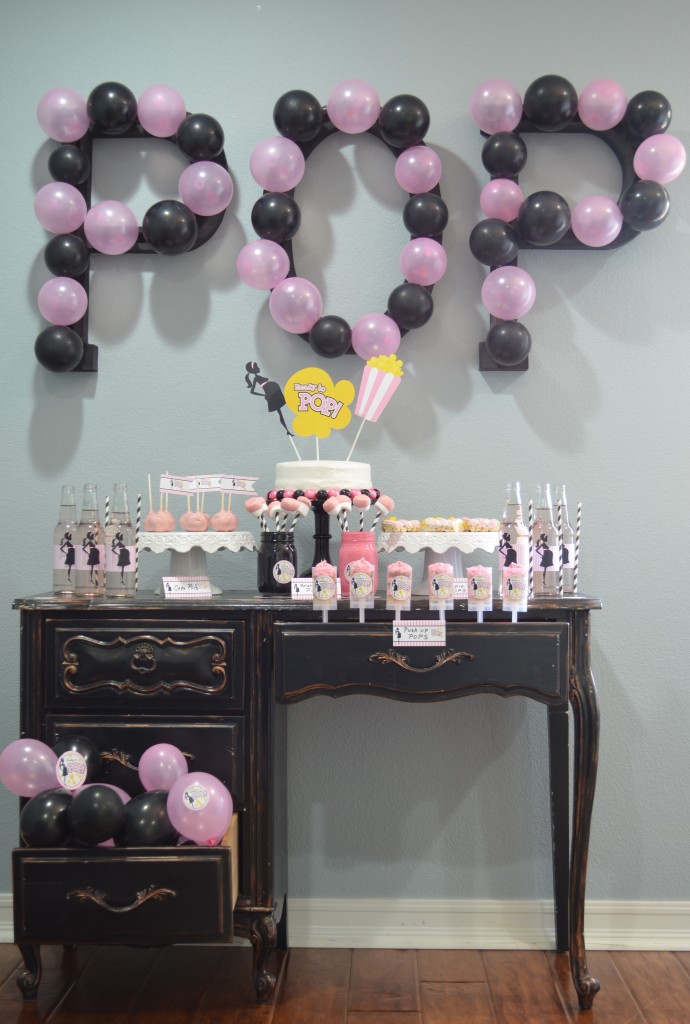 Ok seriously, how cool is this wall art. I wish it could last forever….This was way harder than it looks. I know it's a bunch of balloons stuck on letters, how hard could it be?  Trust me, this was version 4.. Lets discuss the labor involved in this…
First of all these are five-inch balloons from Balloon Masters. We tried to blow them up all the same size, that was a challenge. Next we started taping them to a poster board and we were not happy with the results. We then went to Joann and purchased the letters POP in paper mache. Great, we now taped the balloons on the letters. Still didn't like it since you could see the brown coloring. So we spray painted them in black. Awesome, taped the balloons to the letters. Almost done, right? Not. The balloons did not adhere to the double sided tape. Last step, I promise. We cut out a channel in the center of the letters and on a low setting, hot glued them in position. Viola, below is our final version. Love it, right? So do we!!!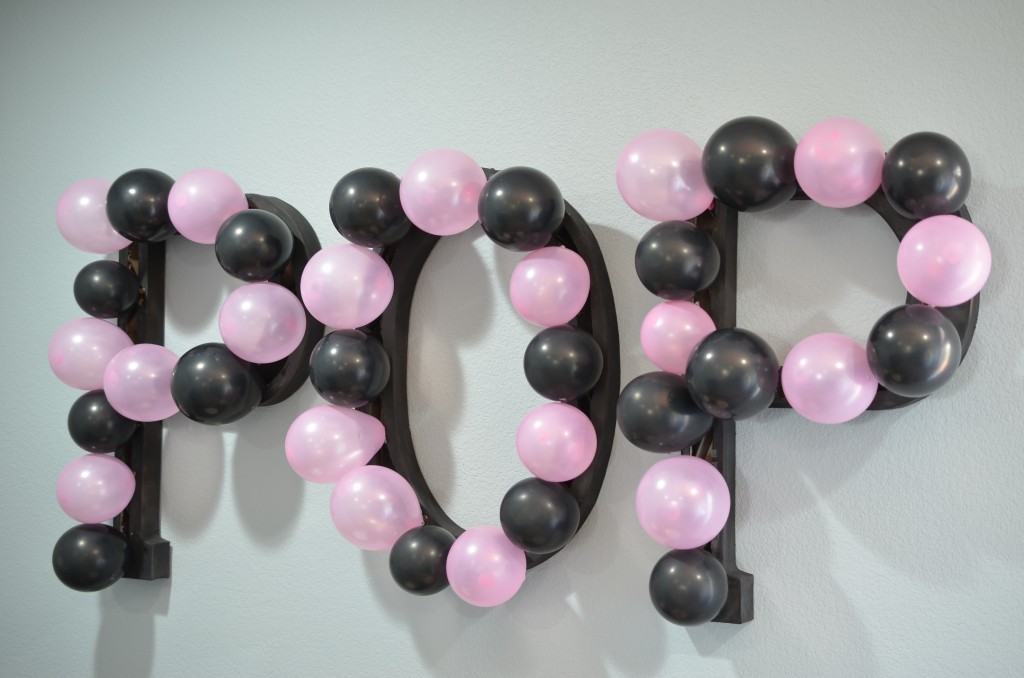 Here is a side view of the Ready To Pop Pink Desert Table. We challenged ourselves with baking everything on this table. Thank you to Wilton for all the cool tools available to us. There were many times when I wished I just purchased all these goodies but whats the fun in that.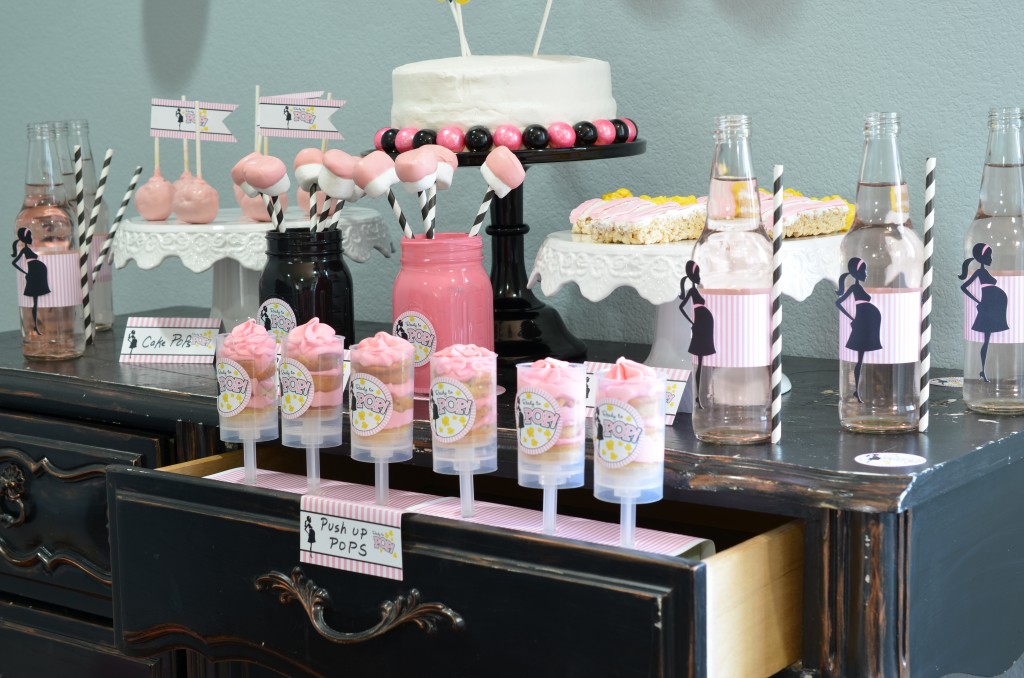 Push POPS are a wonderful addition to your Ready To Pop desert table. You can purchase these at any craft store that has a baking section. We purchased a whoopie pie baking pan from Wilton. We layered pink buttercream and vanilla cake mix from Trader Joes. Our two inch Ready To Pop Sticker was placed on each push pop.  We wrapped pink and white stripe paper around a Floracraft Foam Block. It is really easy to punch a hole through so the push pops can be nice and snug.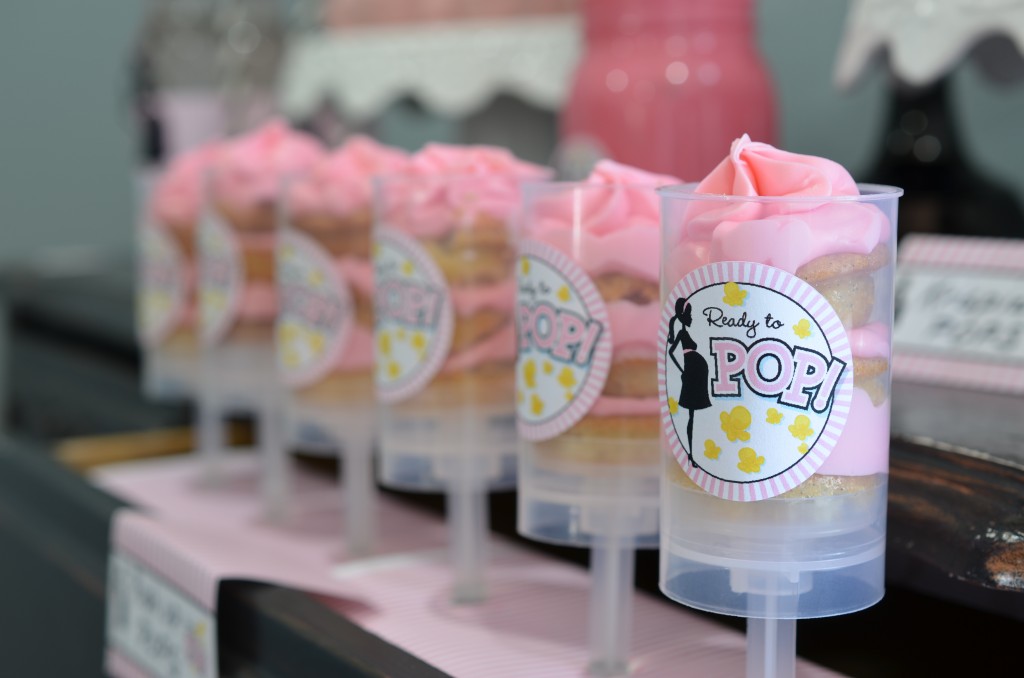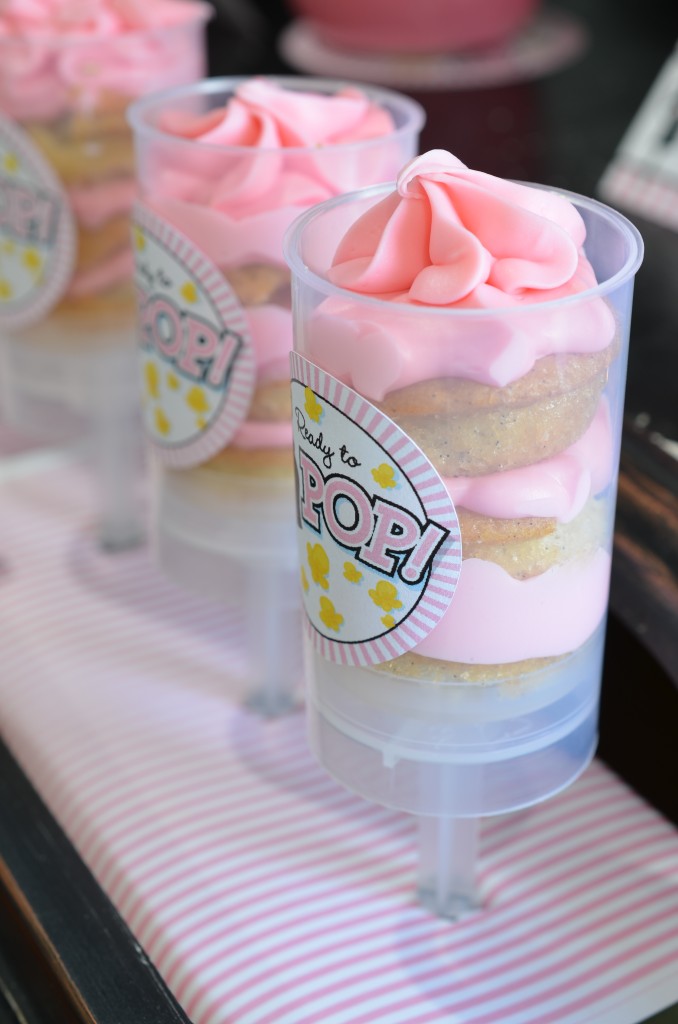 Jenny Cookies makes it so easy to bake. You must buy the book Eat More Dessert. Our Rice Krispie Treats are really easy to make. While it was cooling we cut the sheet into popcorn shape boxes. I am sure there is a cookie cutter you can purchase, but I couldn't find one last minute. We took  some strips of Krispies and rolled them in balls to resemble popcorn. We dipped them in yellow chocolate and used the chocolate as glue to place on top of the boxes. Lets talk stripes. We frosted the top of the popcorn box with white buttercream. We mixed the remaining frosting with two drops of red food coloring. With a No. 47 basketweave tip from Wilton we used the flat side to create the stripes.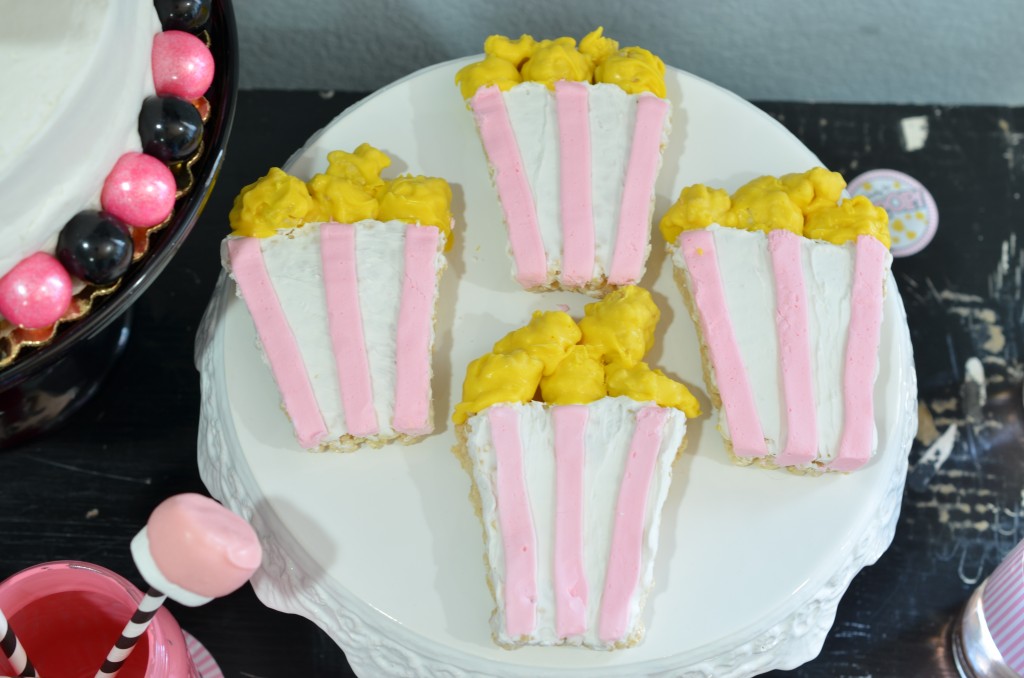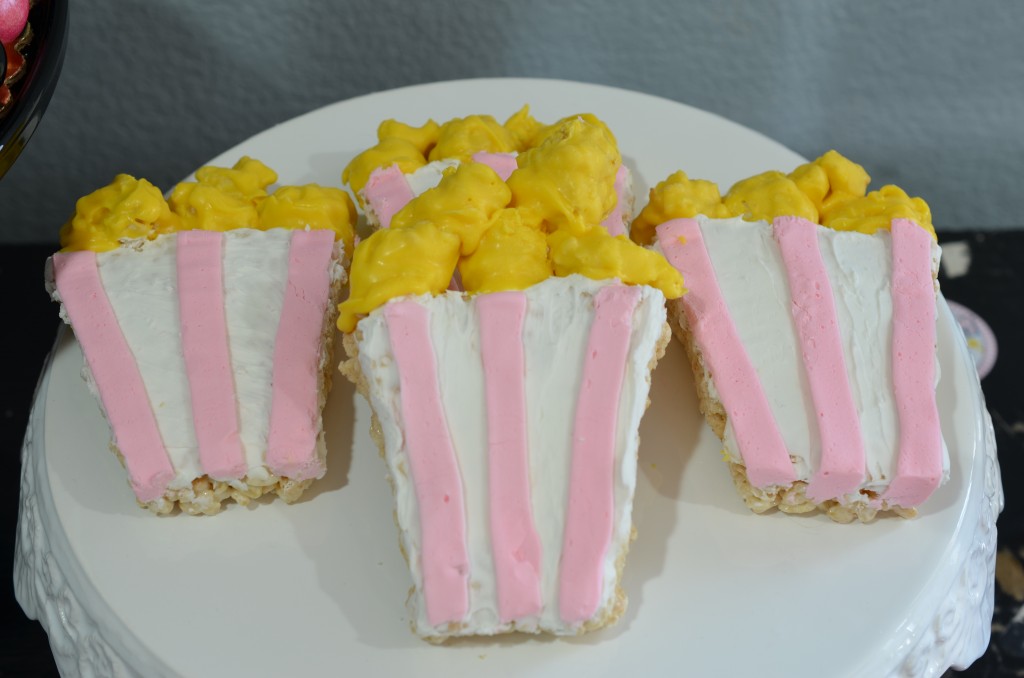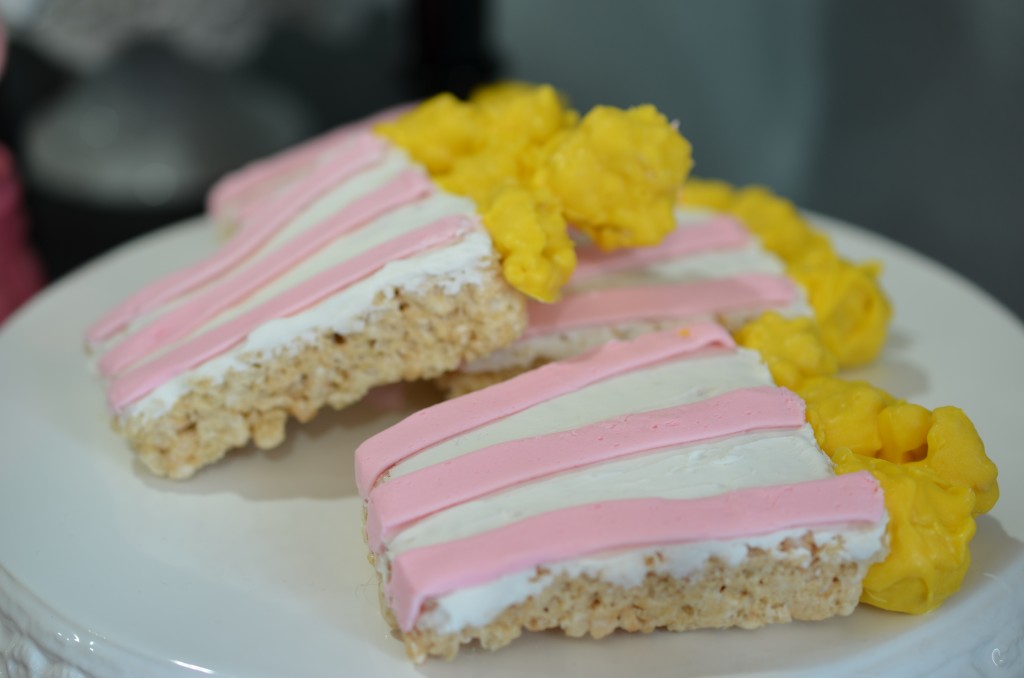 The most challenging of the desserts. I originally thought, how hard can they be? Just cake balls dipped in chocolate. I got this. What I got was a kitchen filled with stuff everywhere. All I kept thinking was wow I saw pink cake pops at Starbucks in the morning, I wonder how many they had left? At the end it was so worth it. Thanks again to Jenny Cookies for her awesome recipe. The hardest part was getting the chocolate hot enough that it didn't clump. As you can see they are not perfectly round. However they taste amazing. I am going to keep on trying until they look like the ones I see at Starbucks. Our cute Ready To Pop return address labels were used as stick flags.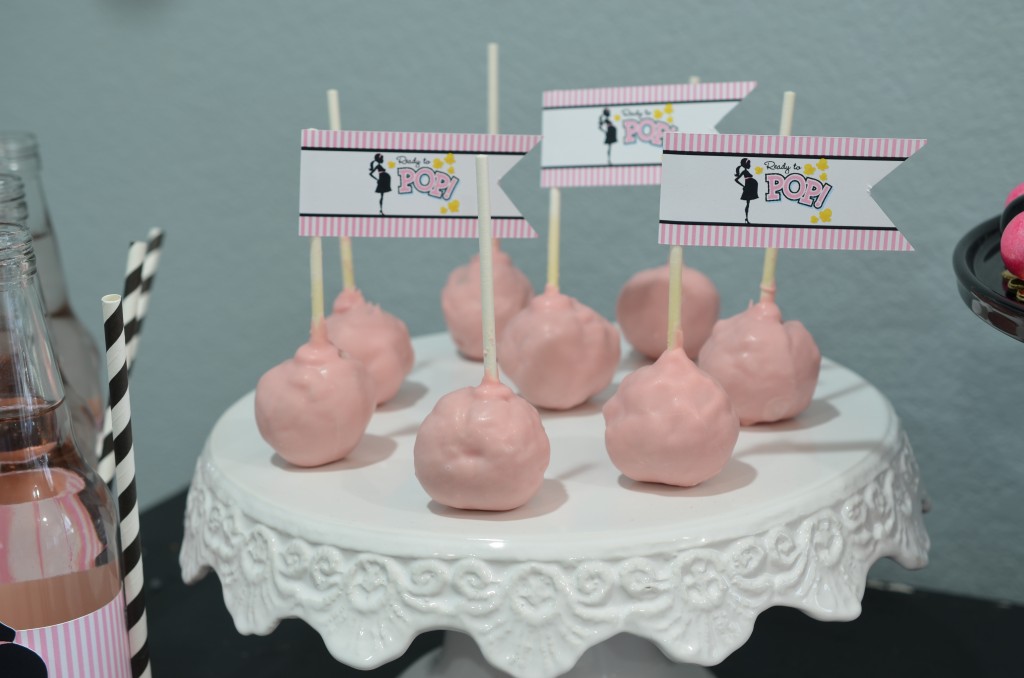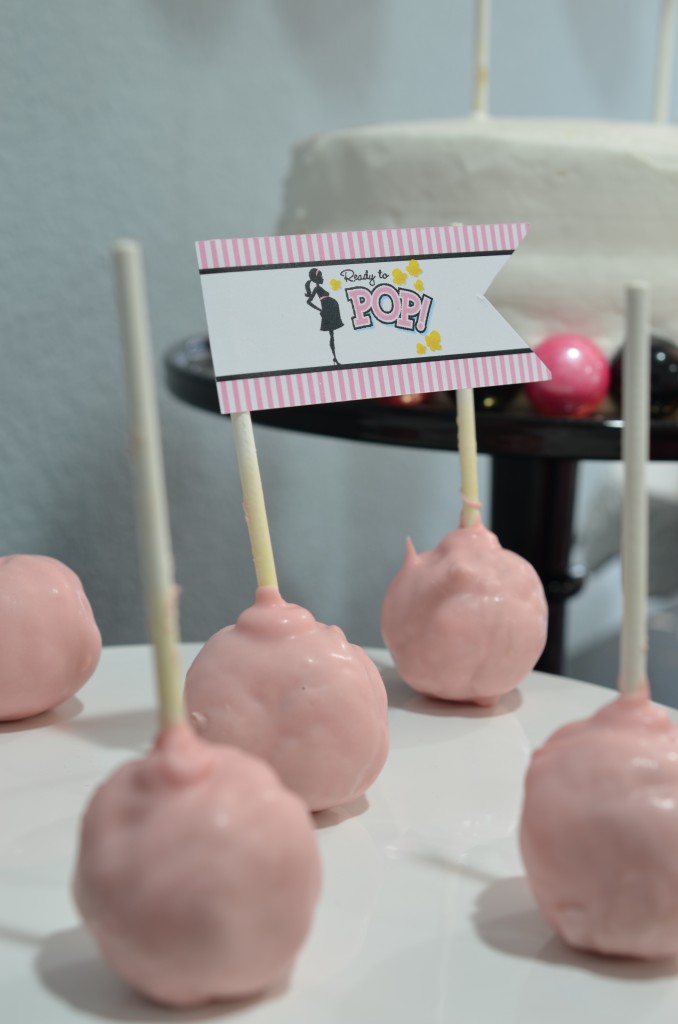 For the center of the table we bought a plain white cake from our local grocery store. We jazzed it up with pink and black gumballs. We took our Ready To Pop Silhouette Cut Outs and hot glued them to a lollipop stick and placed them in the center of the cake.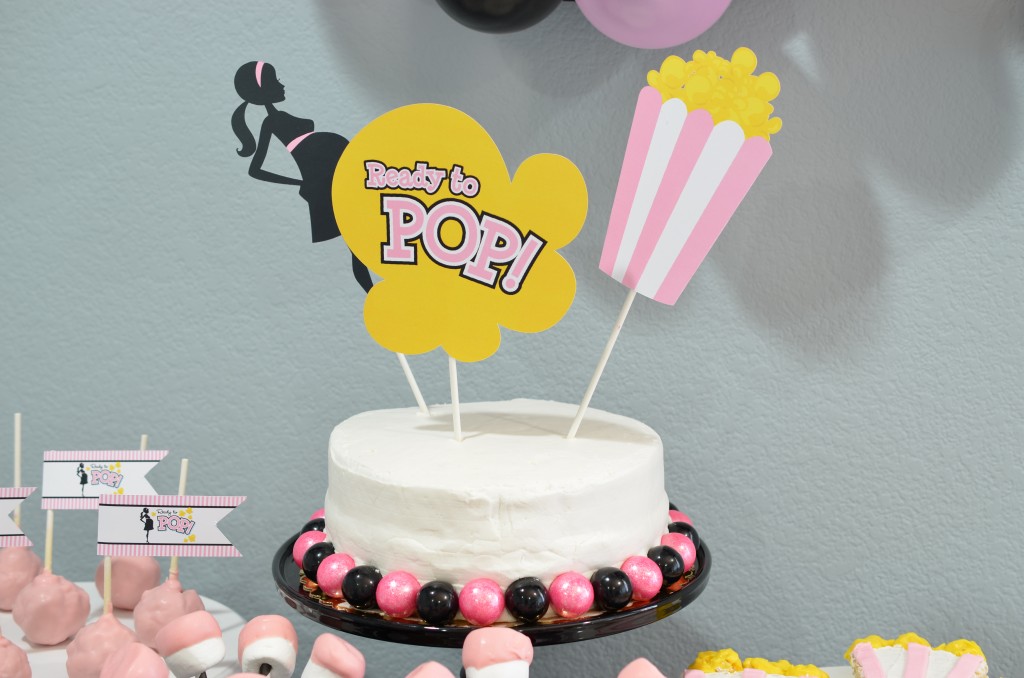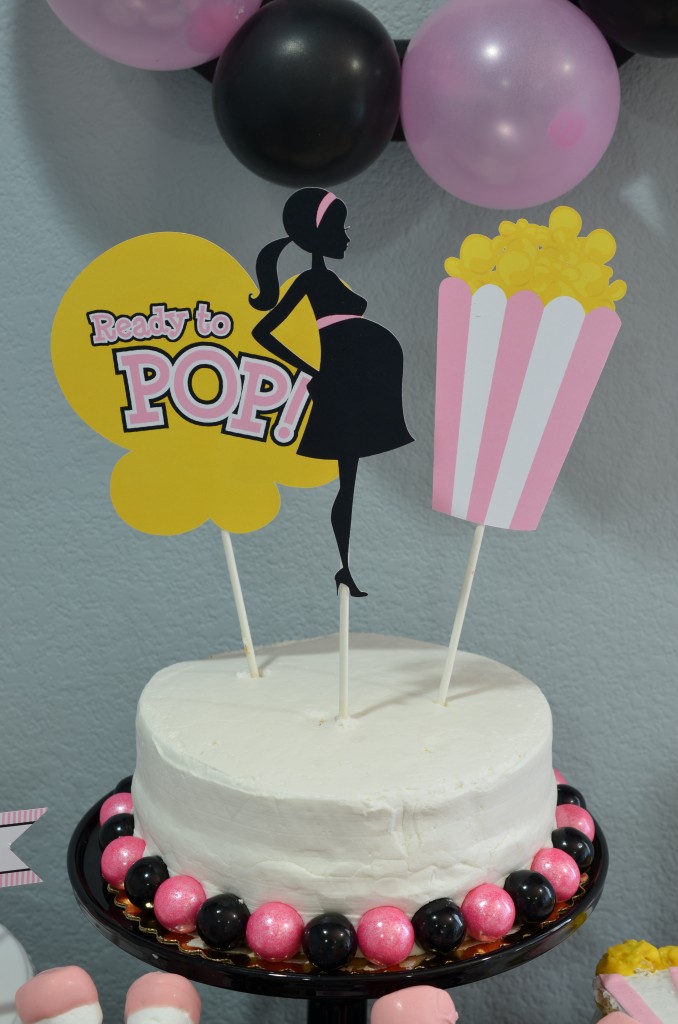 We saw this really cool idea for painting mason jars over at Hostess with the Mostess. It kept the glass nice and shiny and looked great on the table. We hade some left over pink melted chocolate so we dipped marshmallows in them and attached them to cute black and white striped black straws.  Added to the mason jars are our 1.67 round Ready To Pop sticker label. Also on the table we used blank Ready To Pop place cards and hand wrote all the desserts. Our Ready To Pop Table Confetti was used as coasters for our mason jars.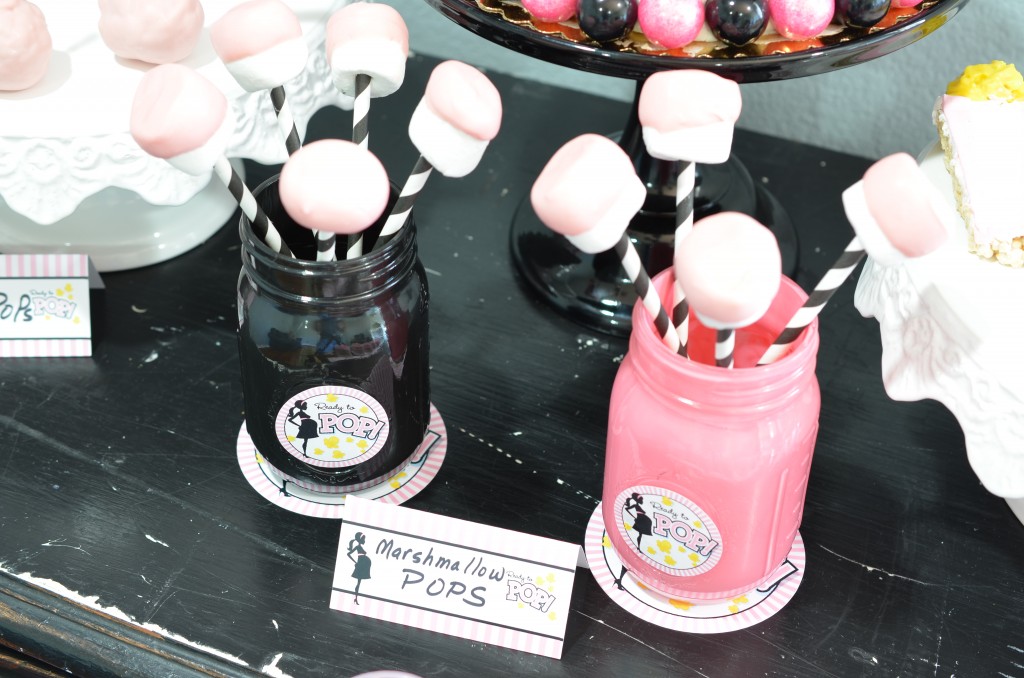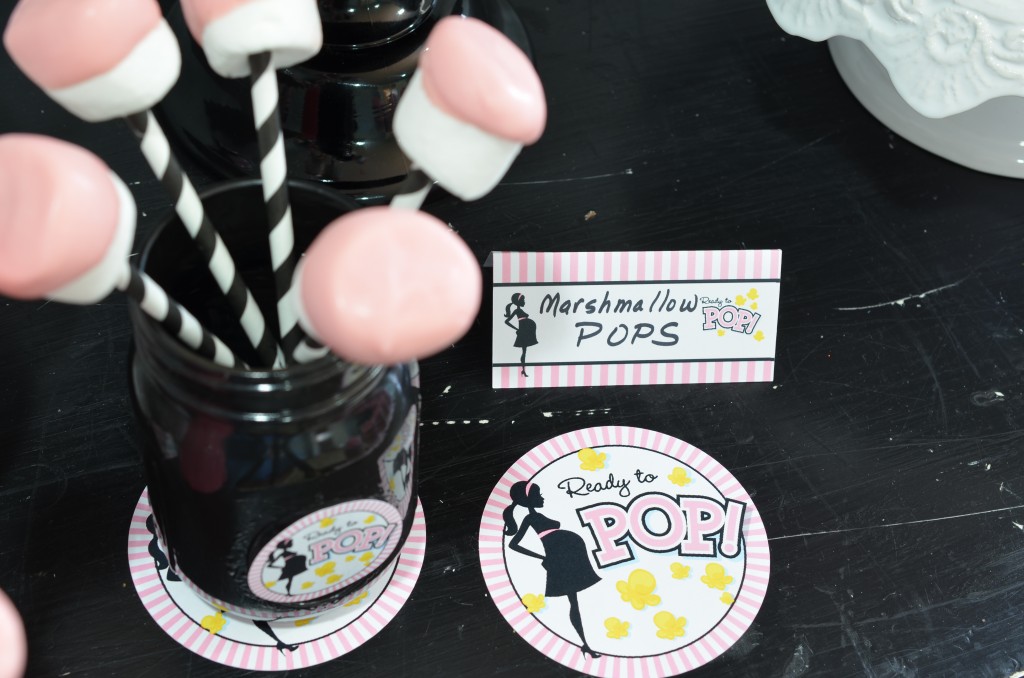 Interesting thing about our Ready To Pop Soda Bottles from Michaels. We totally forgot to purchase some Pink Pop Fizz Drink. However we had a bag of cherry flavored Pop Rocks that we were going to sprinkle on the cake pops but we decided against it. So we emptied the pop rocks into a pitcher of water and created our own beverage. Surprisingly, it was pretty tasty. We printed pink and white striped paper and wrapped the bottles. Love our Ready To Pop Mommy. She is perfect center stage.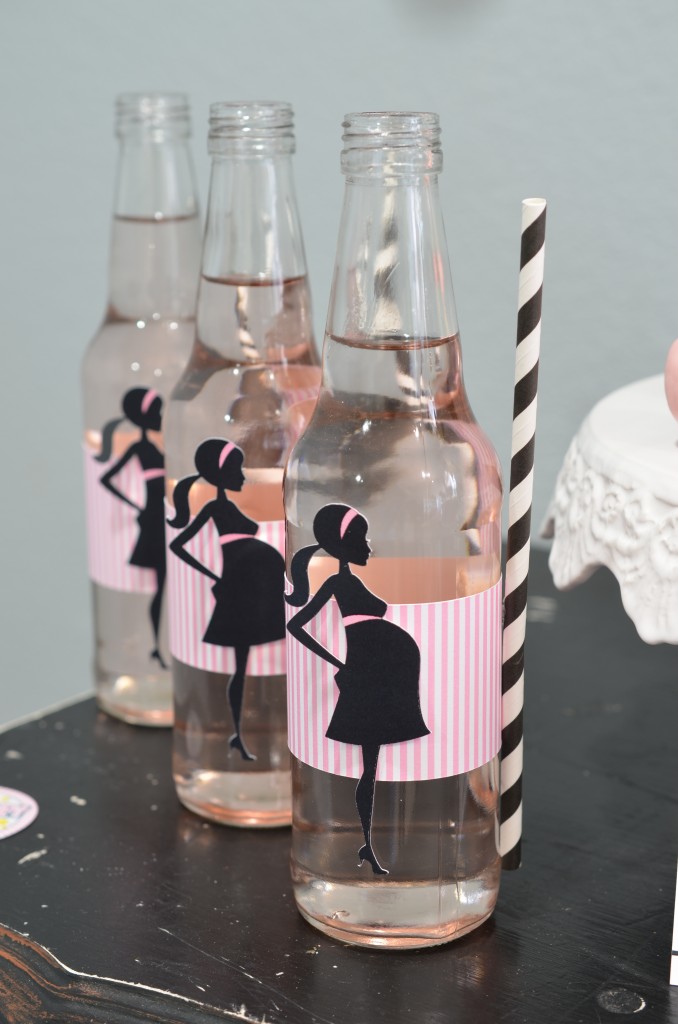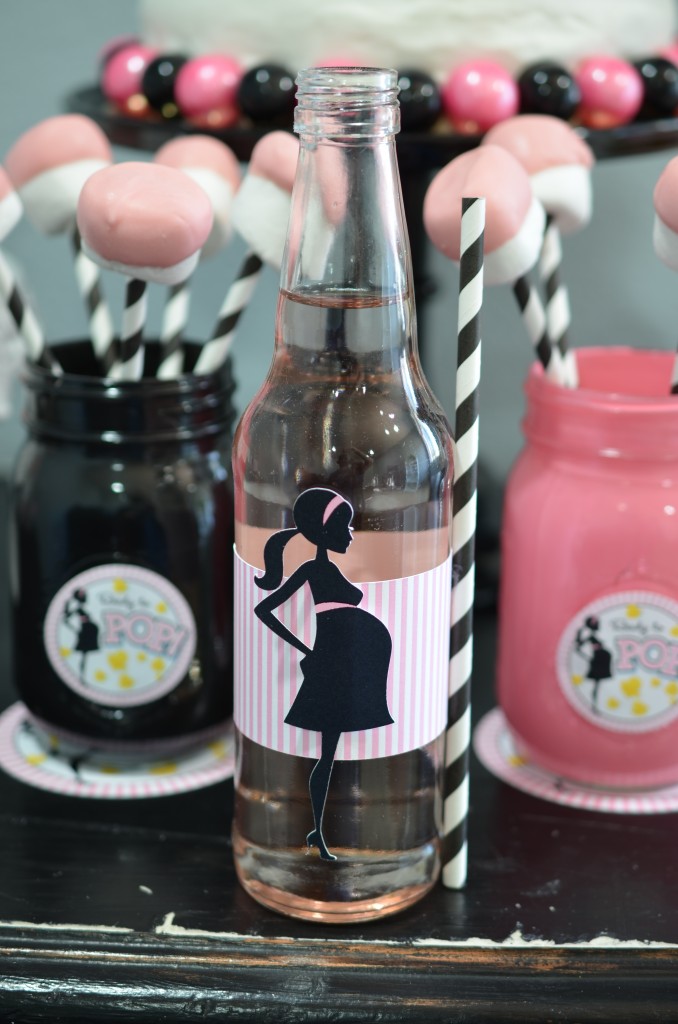 Having a dessert table is a great idea for your guests to walk around and mingle with a small dessert. We hope we inspired you to throw your own Ready To Pop baby shower and not be afraid to get into the kitchen and make beautiful dessert.