Leaves falling in an array of color is the most magnificent site to see. Our Fall Scarecrow Baby Shower Theme is a perfect way to celebrate the birth of a fall baby. This design is adorned with colorful leaves. The center of attention of course is the Scarecrow.
We decided to have an advice table for the mommy to be.  This is a great activity for your next baby shower. Your guests have the opportunity to leave some great advice for the journey that awaits the mommy to be.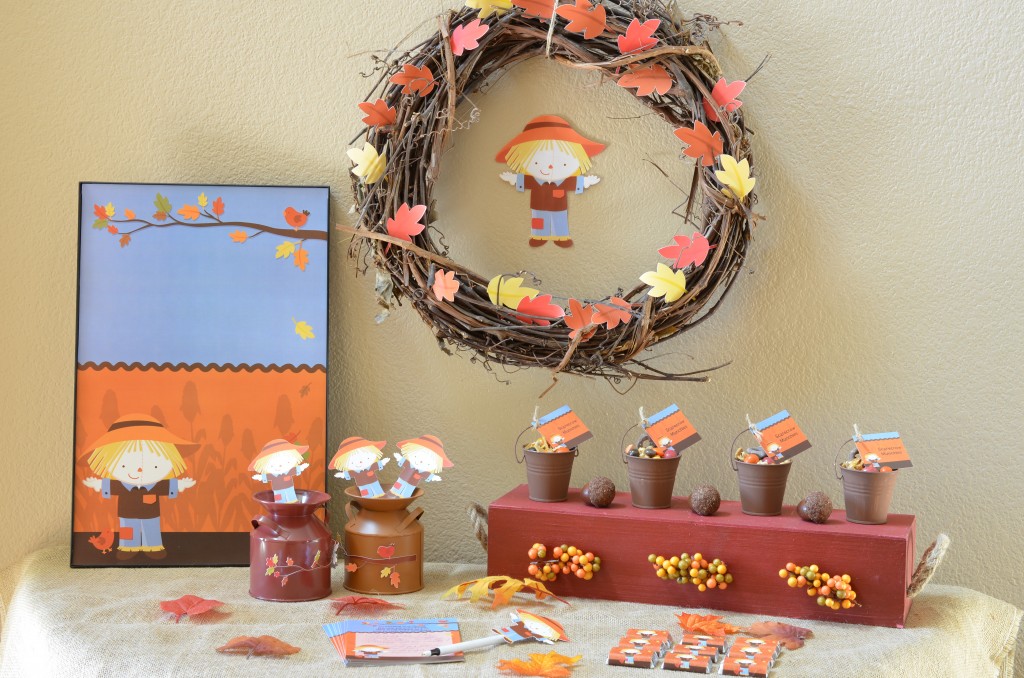 Our Scarecrow Fall Theme Notes Of Advice  makes a great shower activity or game that gets everyone involved. Each guest fills out one of the advice cards, with their words of wisdom for the expecting Mom and Dad. The text on the card reads: "To Mommy and Daddy, the new parents-to-be, here is my helpful hint on how to raise your new baby:". It is a wonderful keepsake for the parents to save. We suggest purchasing a photo book or small clear box and using it to store the advice cards.
This is a wonderful quote for the expectant mother.  "Stressing the small stuff is never worth losing your calm". Seasoned mom's would agree.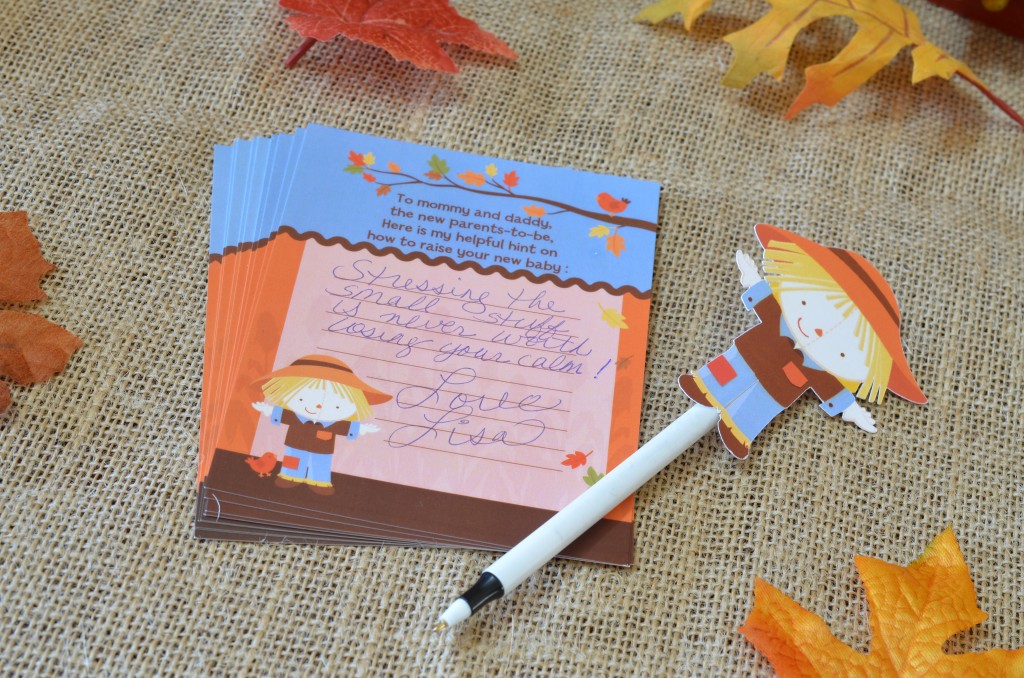 As you can see we LOVE the Little Scarecrow. We used our new Cricut Explore Machine and cut out these cute three inch scarecrows and glued them to the top of the pen. Don't worry if you don't have this machine, we are going to offer the design on our website as a print and you cut feature.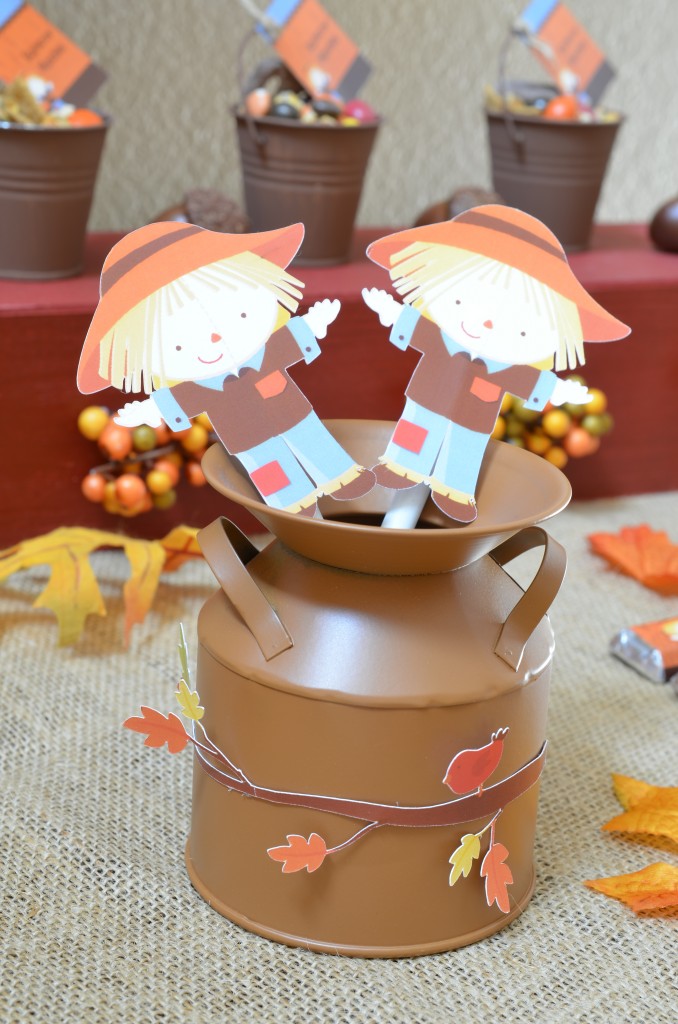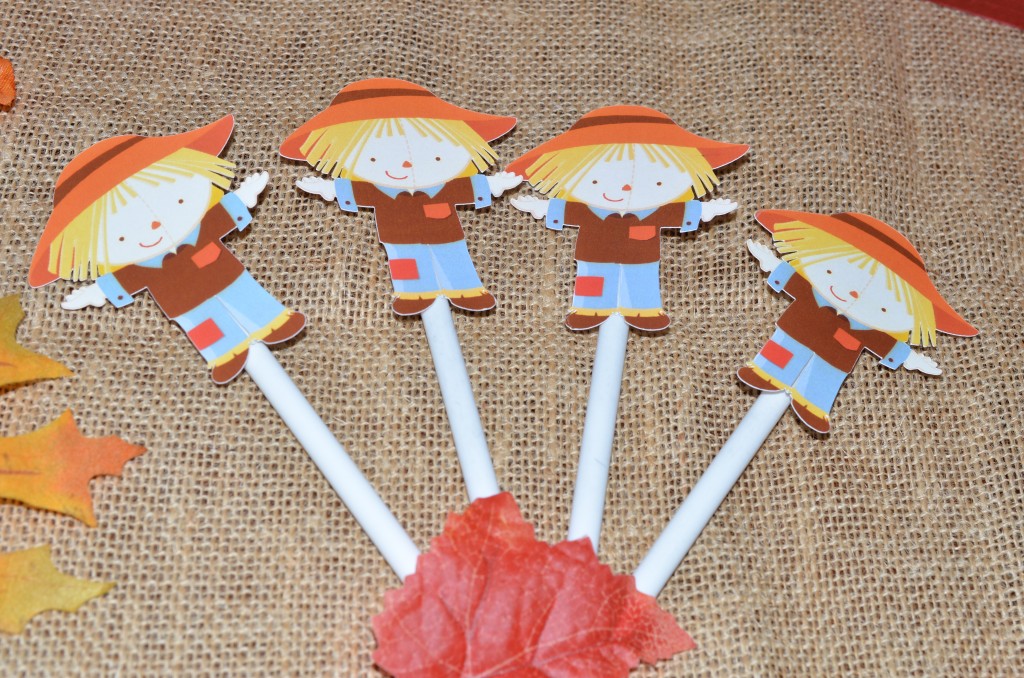 We found this cute box from Joann's Fabric Store in the clearance section. We flipped it upside down and added some Scarecrow Munchies for the guests to snack on while they are writing out their advice. We hot glued some berry  branches to the front of the box and place acorns in between each pail. We painted little tin pails in brown chalk paint to match the theme colors and added a Scarecrow Favor Tag .
We are health nuts here at Candles and Favors so our munchies were very healthy. We mixed them all up and placed them in each tin pail.
Here is what was inside them:
Chocolate Covered Pretzels
Peanut Chocolate Covered Pretzels
Sundrop Covered Peanuts
Sundrop Covered Sunflowers
Mother's Best Honey Graham Cereal
Corn Snack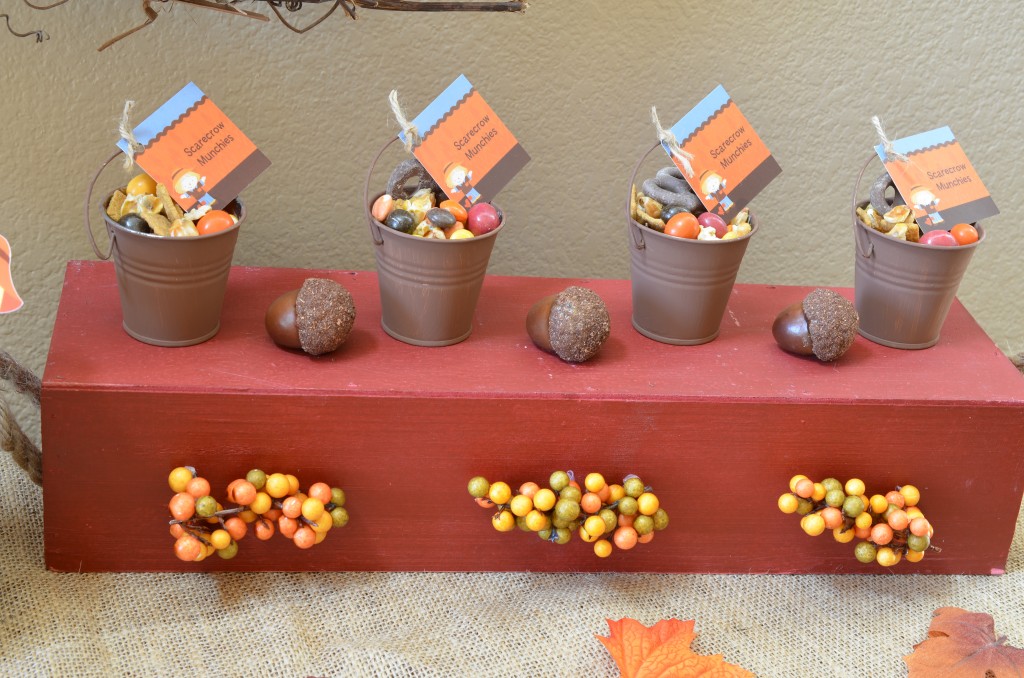 Up close picture of our Scarecrow Munchie Tag . We used some burlap string to add it to the tin pail handle.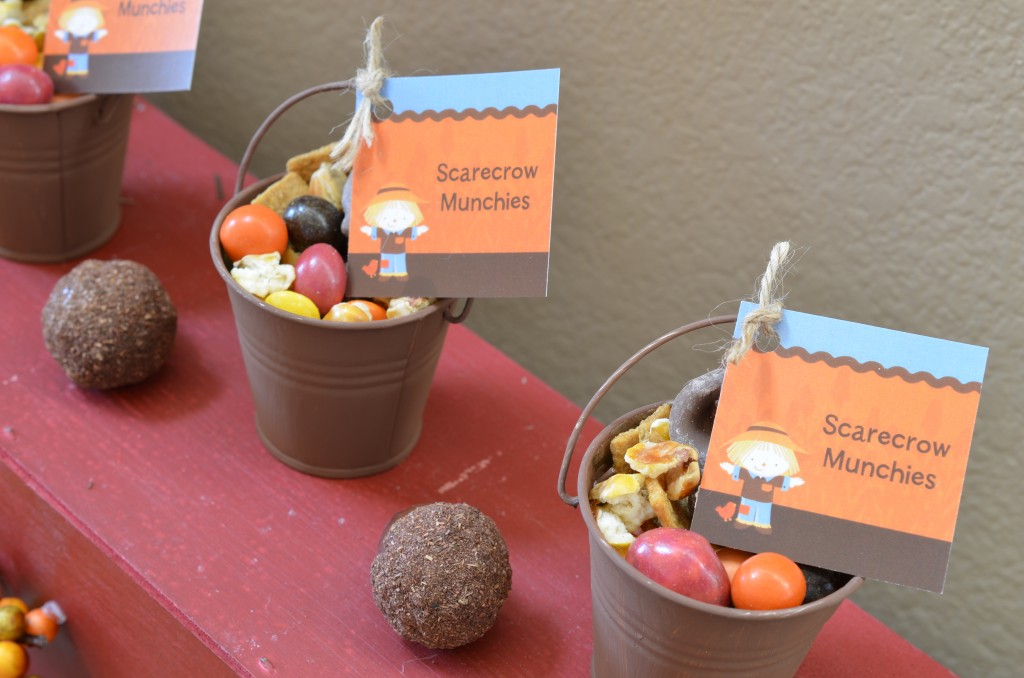 Framing our Scarecrow Fall Theme Wall Art is a great idea to decorate a table or a wall. Its an item that you can use at your baby shower and then pass it on to the mommy to be to put in the nursery. The wall art measures 11×17 and you can add up to three lines of text. We decided not to personalize the art work, but adding the babies name or having the words "Note Of Advice Table" are possibilities.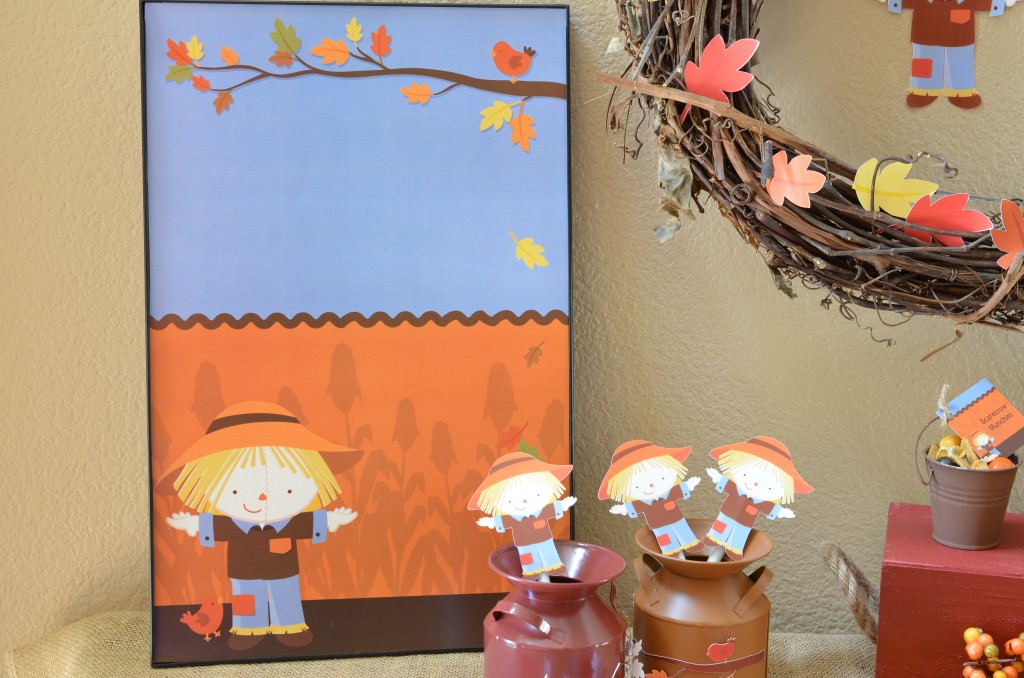 Center stage is one of our favorite aspects of the Advice Table.  Another great find was this fall theme wreath from Joanns.  We printed and cut our Scarecrow and put it right in the center of the wreath. Also cut was a variety of colored leaves that we placed around the wreath. Such a simple idea that created a pop of color for the wall as well as complimenting our wall art.
To fill a small space on the table we added our Personalized Scarecrow Fall Theme Mini Candy Bar Wrappers . We scattered some leaves around the table to add a pop of color .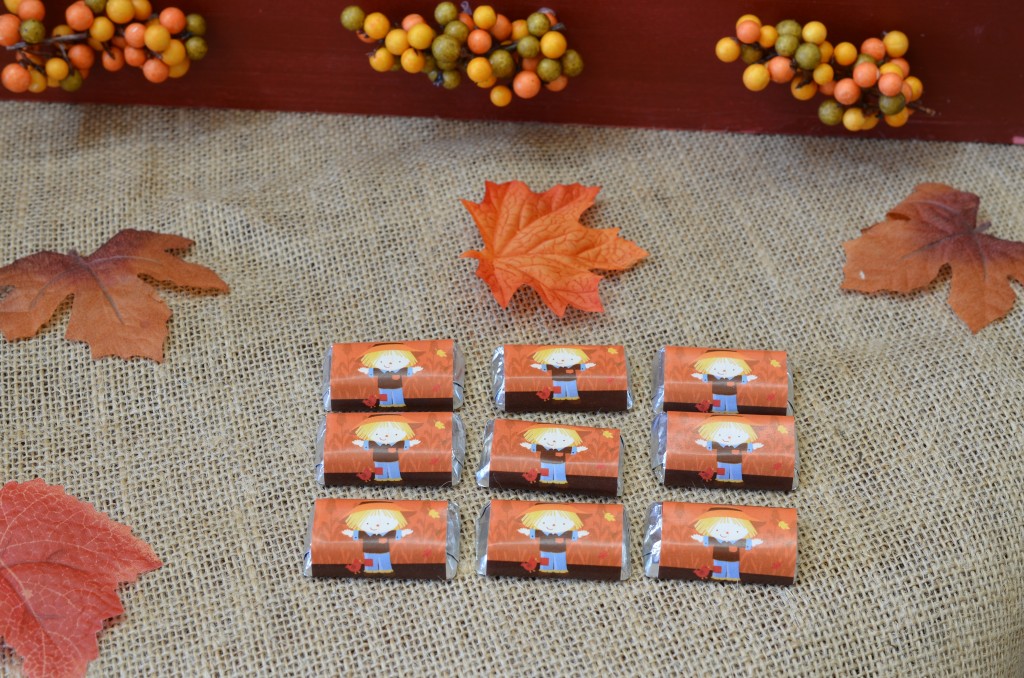 Jo-Ann Fabric and Craft Store really came to the rescue with their great collection of fall theme items. They had all the right colors to match our Scarecrow Fall Theme . We used maroon and caramel color tin jugs to hold our pens. We took our branch adorned with colorful leaves and a birdie and added it to the milk tins.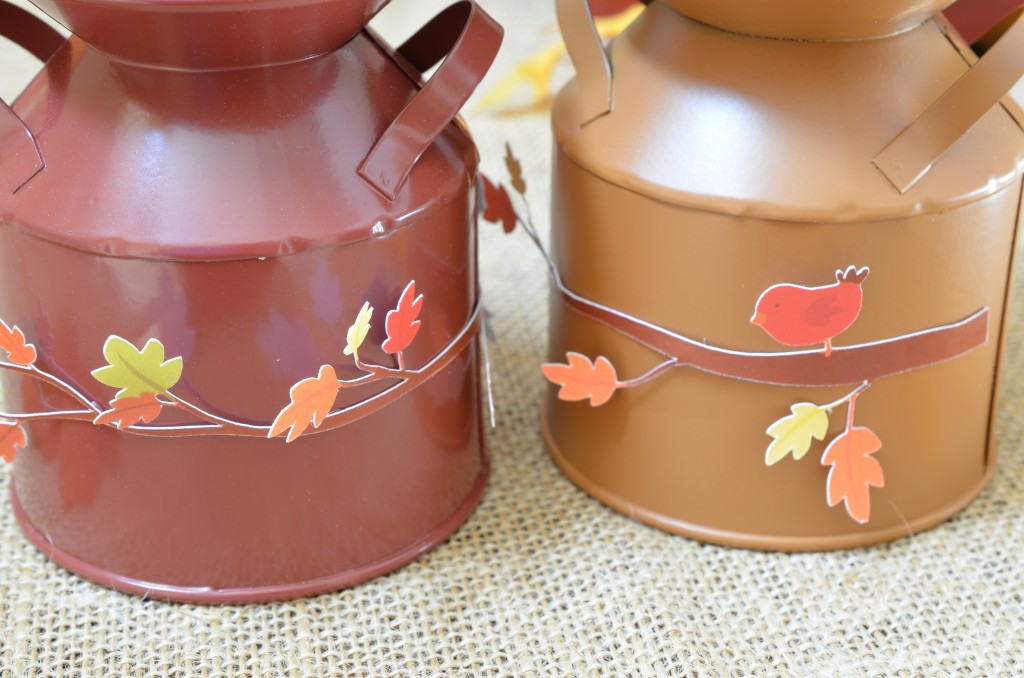 Hope you enjoyed this post and was able to leave with great ideas for your next fall theme party. All the aspects of this party are obtainable with just a little creativity, some props you may already have and a great scissor 🙂