Gingerbread House Decorating Parties are a great way to kick off the holiday season. The best parties are the ones that let kids get involved.  It's a great way for kids to unleash their creative side. We hosted a small party for our children and their friends. The sugar rush was an understatement but at this age, counting calories is really not important. No detail was left unnoticed by these girls.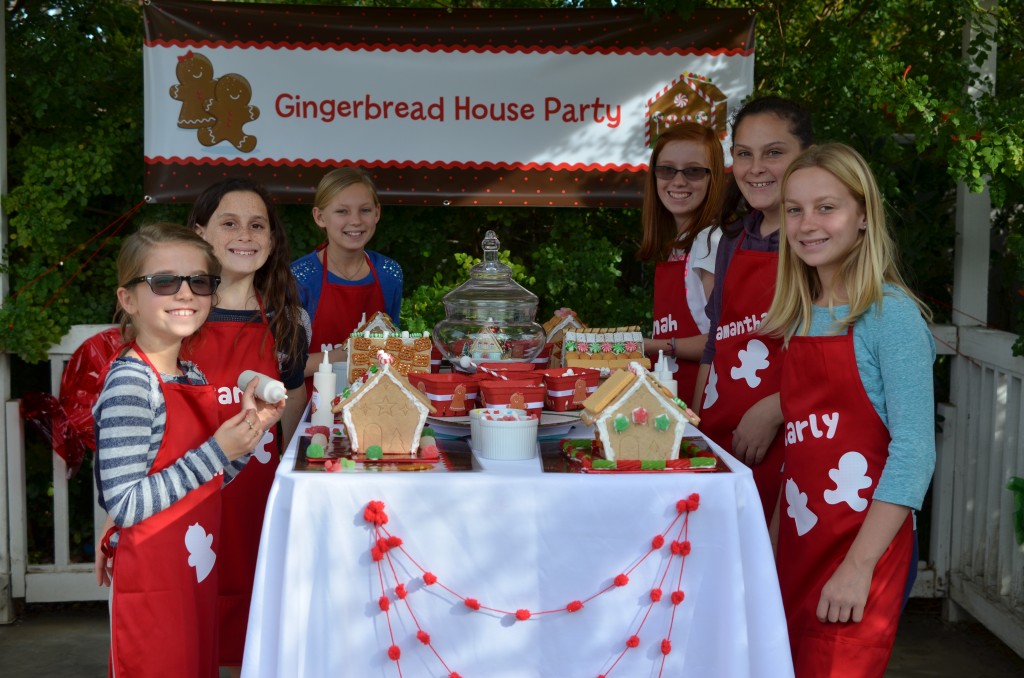 This gazebo was perfect for our Gingerbread House Party. If you don't have a gazebo, don't worry. You can make anything look festive. There is so many cool features we added and so easy, your friends will think your a Party Super Star…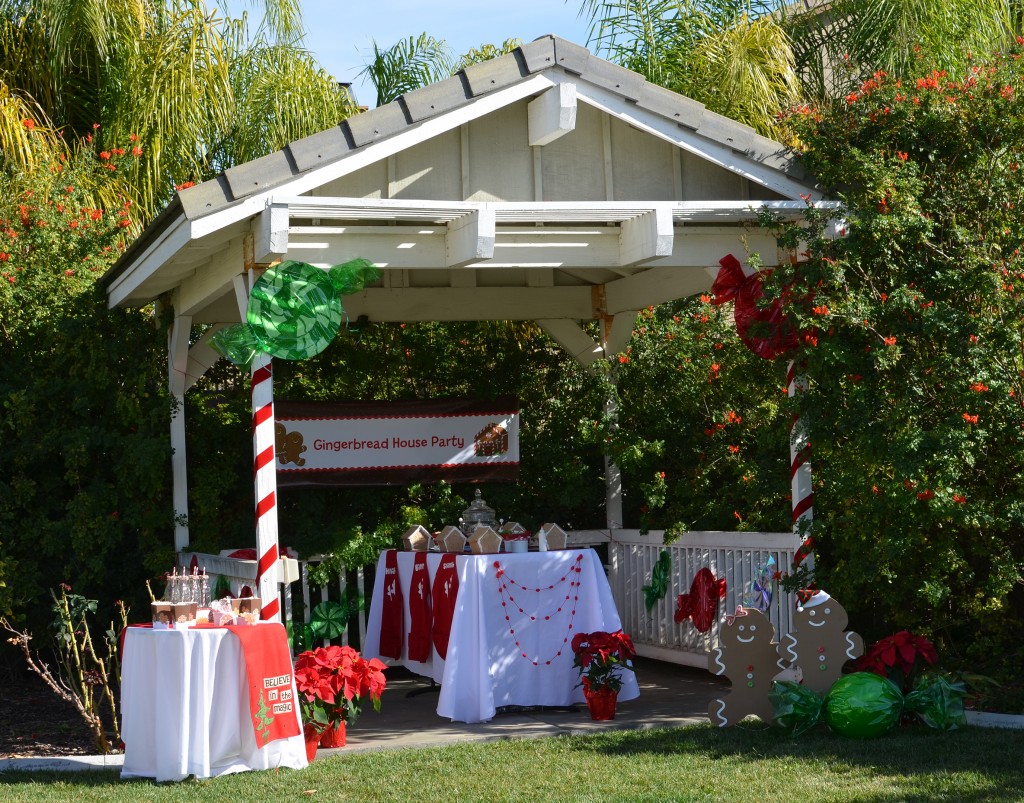 Scattered around the gazebo we purchased oversized cake circles and drew colored swirls to make them look like peppermints. We then put a clear, red and green transparent packaging wrap around them and tied ribbon on the edges. For the gingerbread boy and girl we cut from cardboard their shape and embellished them with candy and a cute knitted hat. To top off this corner we took a green bouncy ball and wrapped it with green cellophane and wrapped the ends to make it look like a giant hard candy.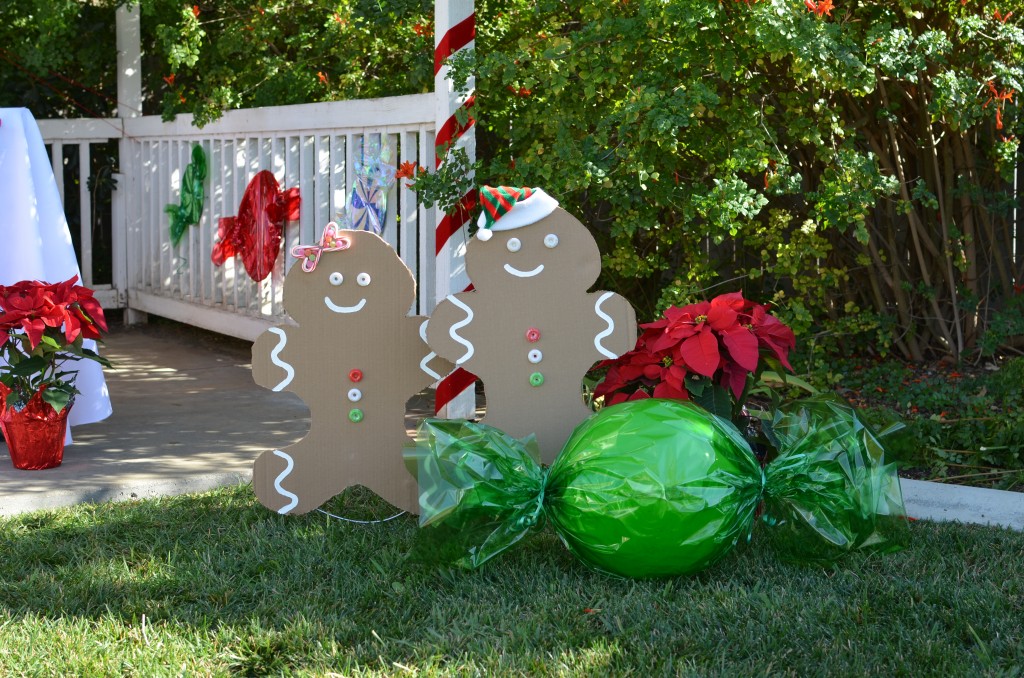 Here is the side view of the gingerbread boy and girl. We got really lucky and purchased beautiful poinsettia's at Target for 4.99. They really completed the floor decorations. We also purchase red ribbon from Hobby Lobby and wrapped them around the frame of the gazebo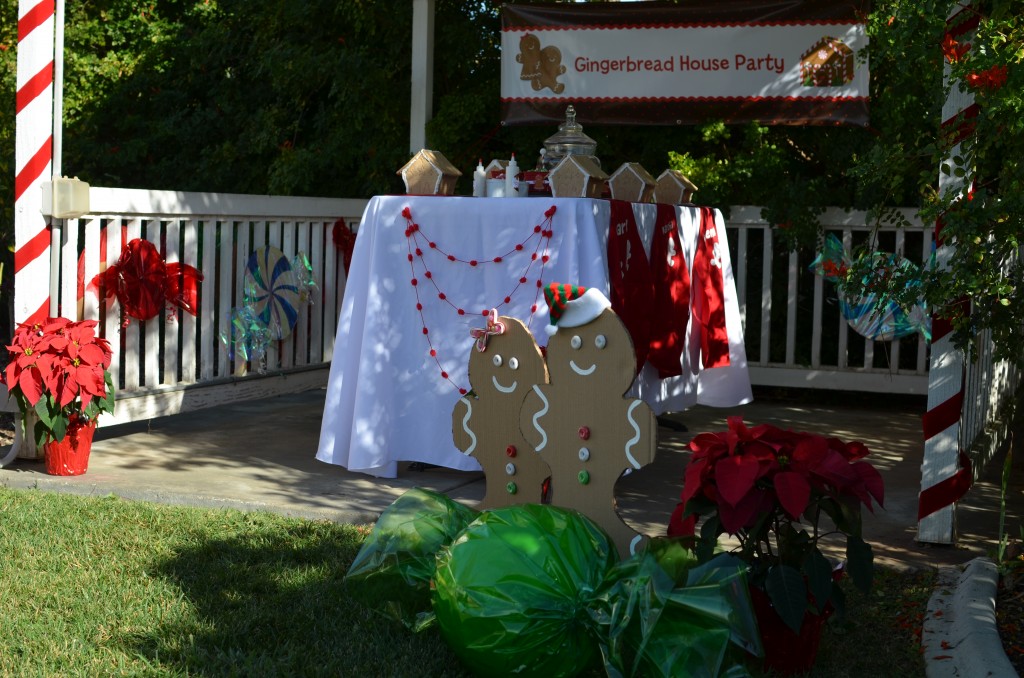 We decided to pre-assemble the houses so the girls can get right to work. This was a great idea because in unison they all shouted "Yay, we do not have to put them together".  All the girls had the same gingerbread house. We were going to do different ones for each girl, but the odds of six girls getting what they wanted was slim to none. So the gingerbread houses were purchased from World Market. Super easy to assemble and it comes with colorful candy and two bags of ready to use icing mix. The cardboard that comes with the kit doesn't leave a lot of room to decorate the surrounding house so we wrapped 8×11 cardboard with holographic red wrapping paper.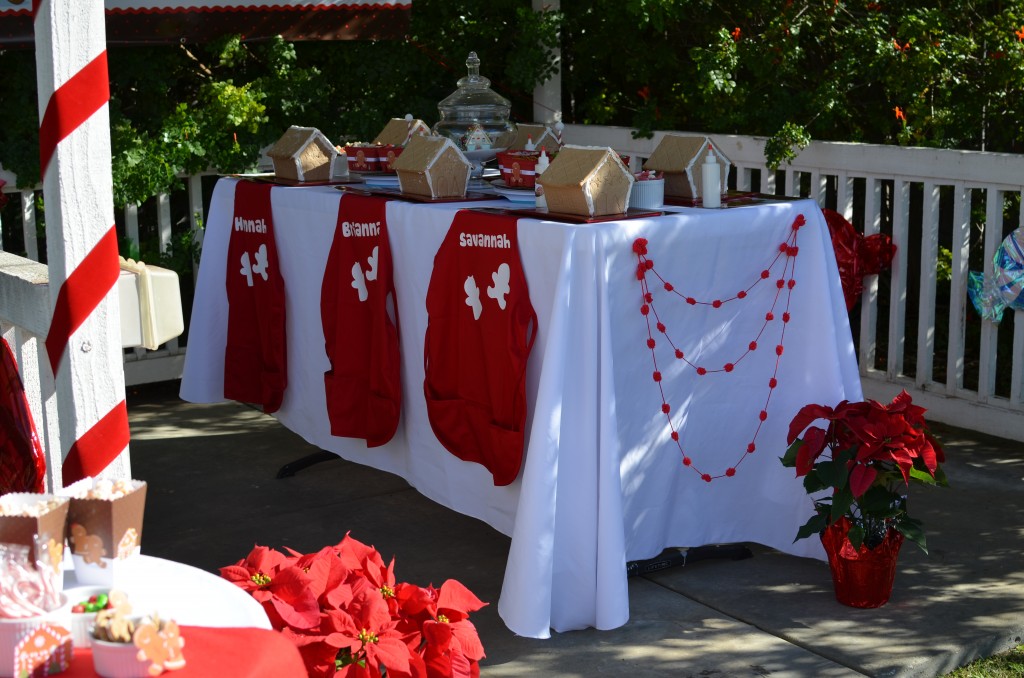 These aprons were a great addition to our Gingerbread House Party. We purchased them from Hobby Lobby. The kids were thrilled that they were personalized and there was a pocket for their cellphones, really!!! We used the Cricut Explorer and used the Cookies font for the aprons.  We also had some cute yarn that we cascaded down the front of the table to break up all the white.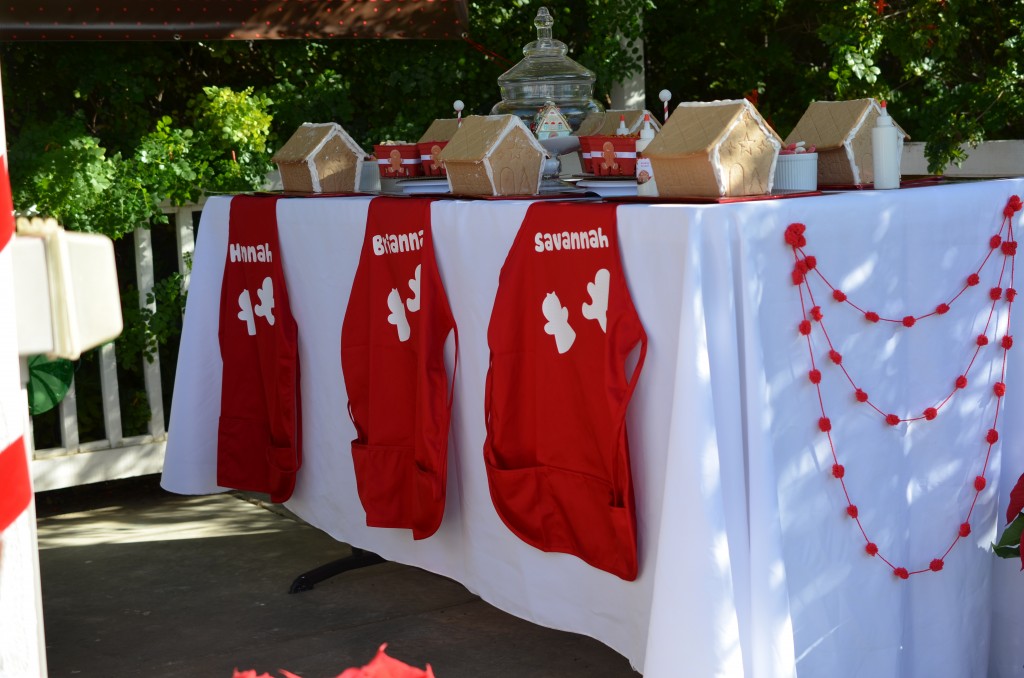 Our Personalized Gingerbread House Banner was the perfect backdrop for our festive event.  We decided to make it an outdoor banner with grommets so we can continue to use it year after year. Want the same thing for your event? No problem, put in special instructions that you would like it to be an outdoor banner and we can upgrade your order for a small fee.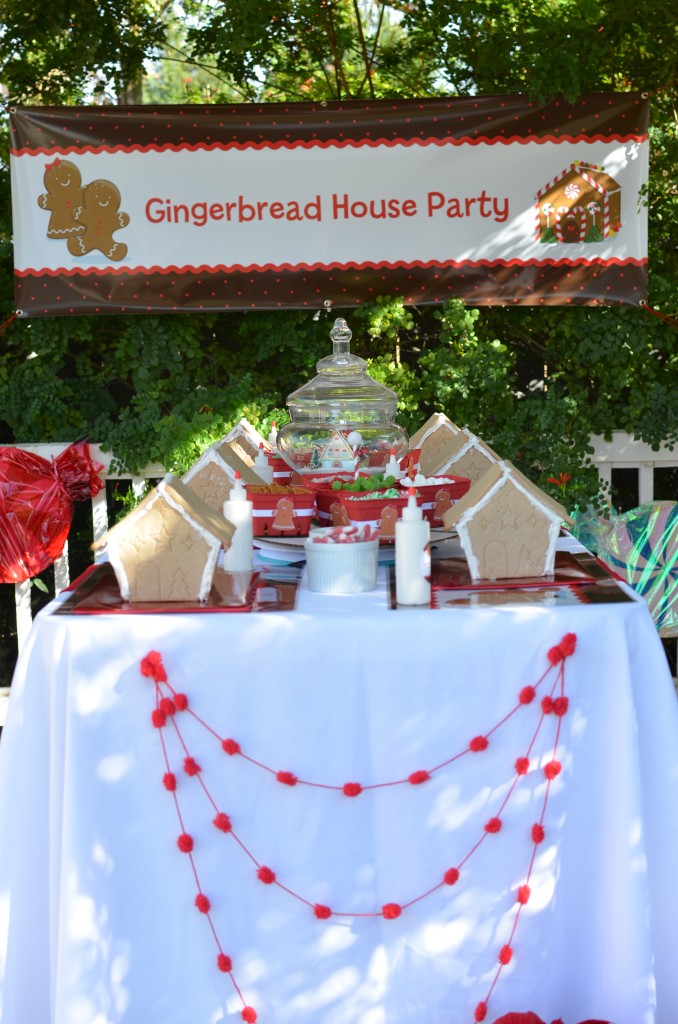 With all the parties we do, we always have our signature piece. This round apothecary vase from World Market was a great investment. This simple centerpiece has a cute gingerbread house ornament from Hobby Lobby.  Instead of snow we used Epson Salt.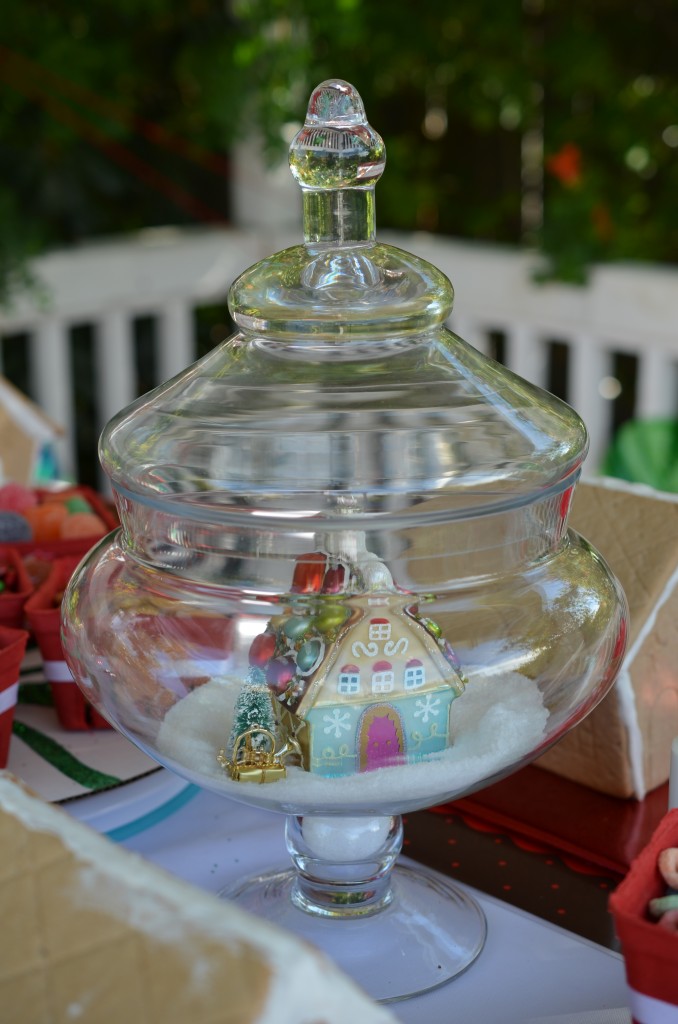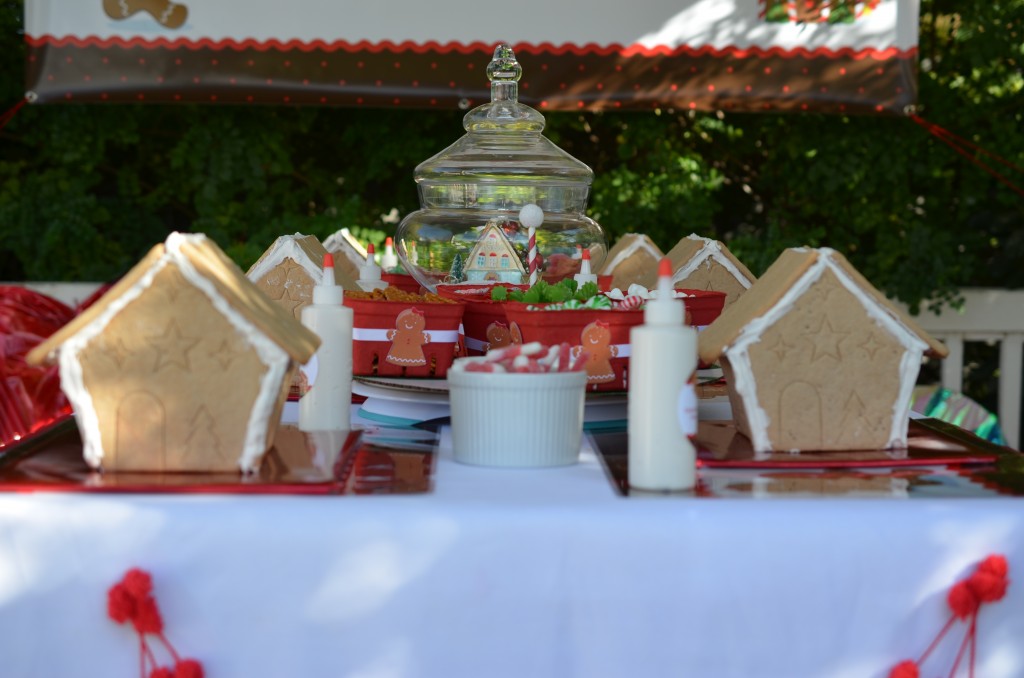 The table, so pretty and colorful, don't worry not for long. I do have to say these kids were really neat. There was plenty of room to create and the candy was very organized. We laminated our Gingerbread House Placemats which they also took home.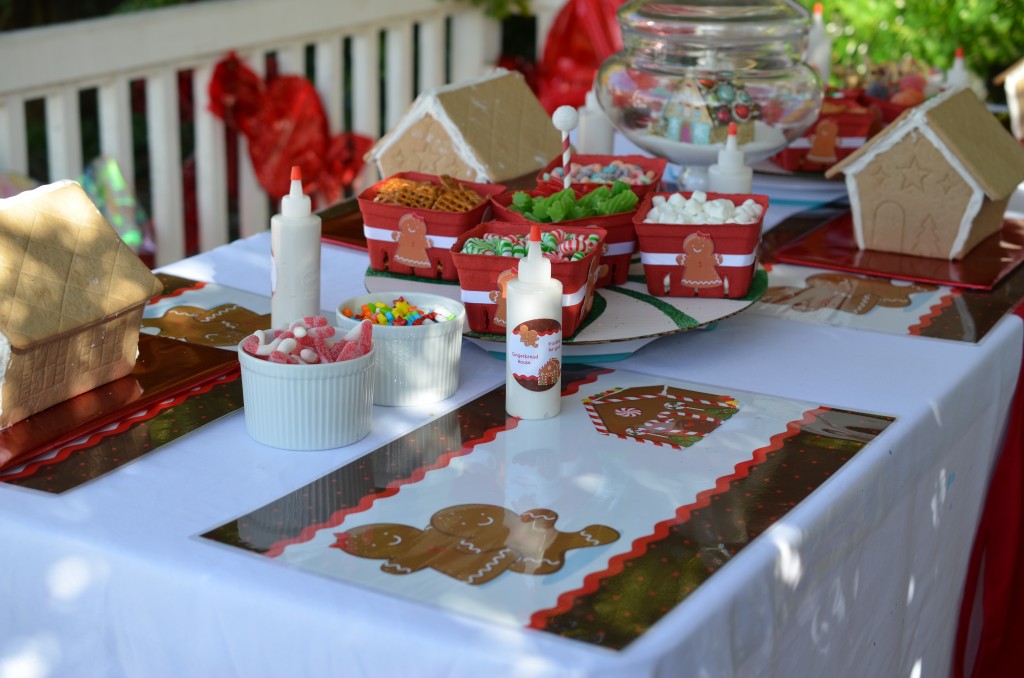 Our biggest suggestion when your combining children and icing is to use these squeeze bottles. We purchased them at Michaels.  All the kids were kind of confused because they were looking for the piping bag. When I told them the squeeze bottle would be easier to decorate, they couldn't agree more. We put a cute 2.25 inch round Gingerbread House Sticker to continue with our theme.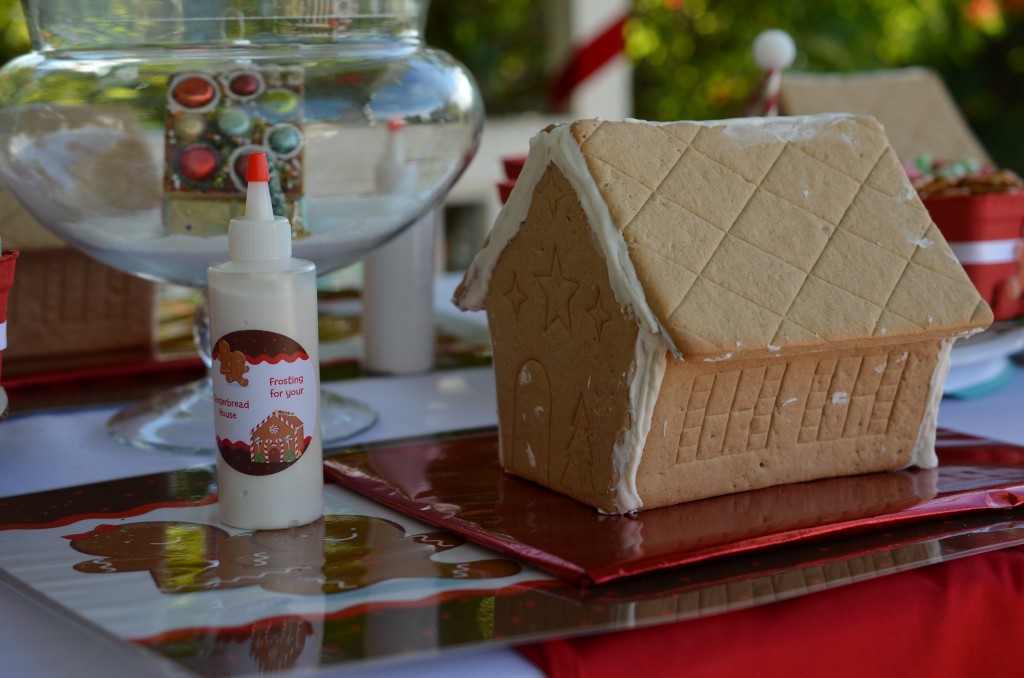 Ok candy, our favorite topic. All I can say is, find a bulk candy place. We have a Winco where we are and they had the best prices.  We purchased these cute red baskets from Michaels. Once again our Cricut Explorer came to the rescue. We cut out our Gingerbread Boy and Girl and embellished our candy baskets.  We put large round cake circles on top of a Wilton Lazy Susan so the kids can rotate the candy. Our only regret was that we didn't cover up the teal bottom of the Lazy Susan since you can see it in the pictures…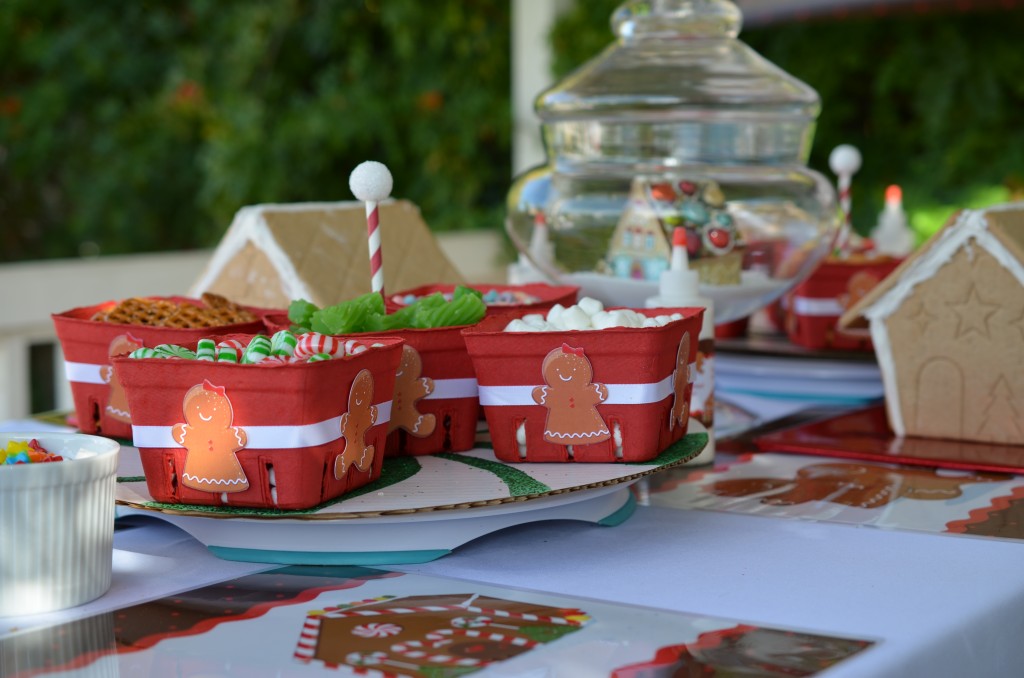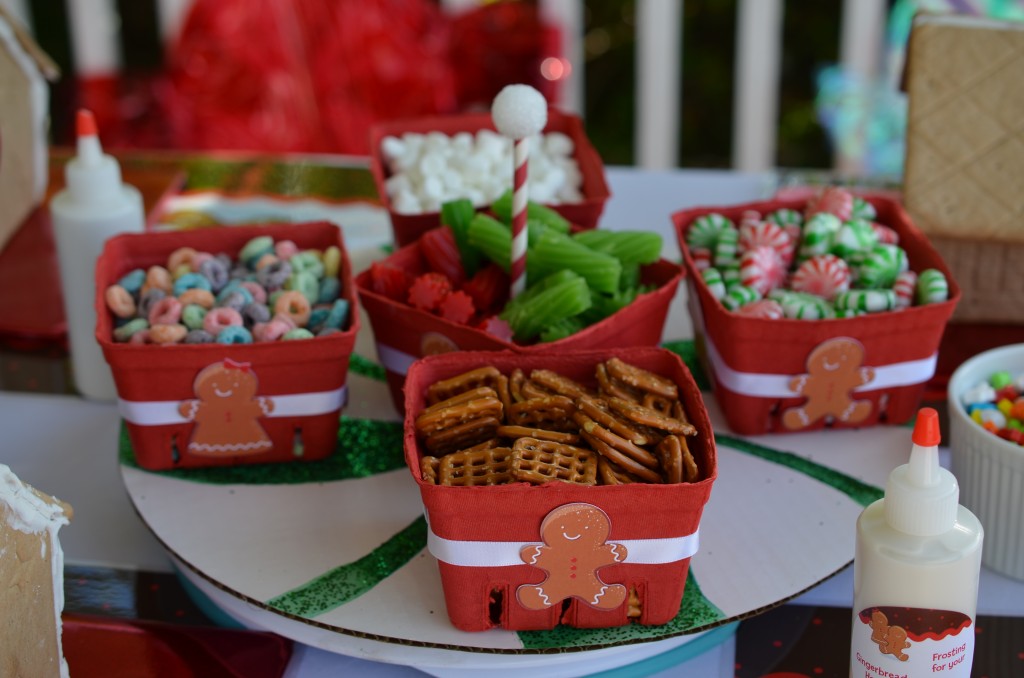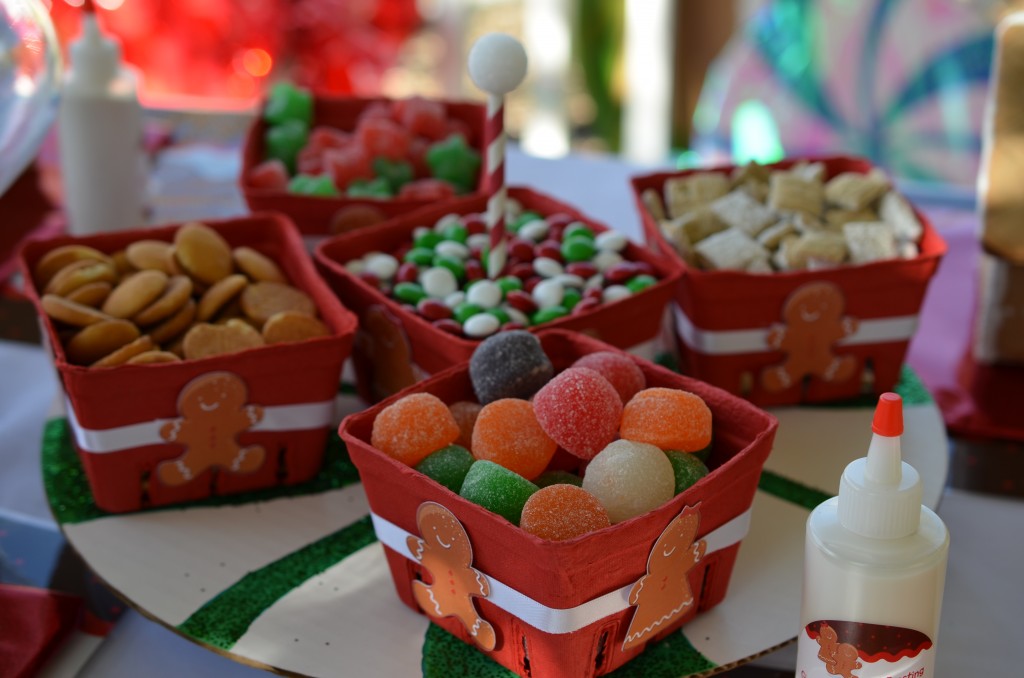 We added a small table off to the side of drinks and snacks. This adorable runner came from Hobby Lobby.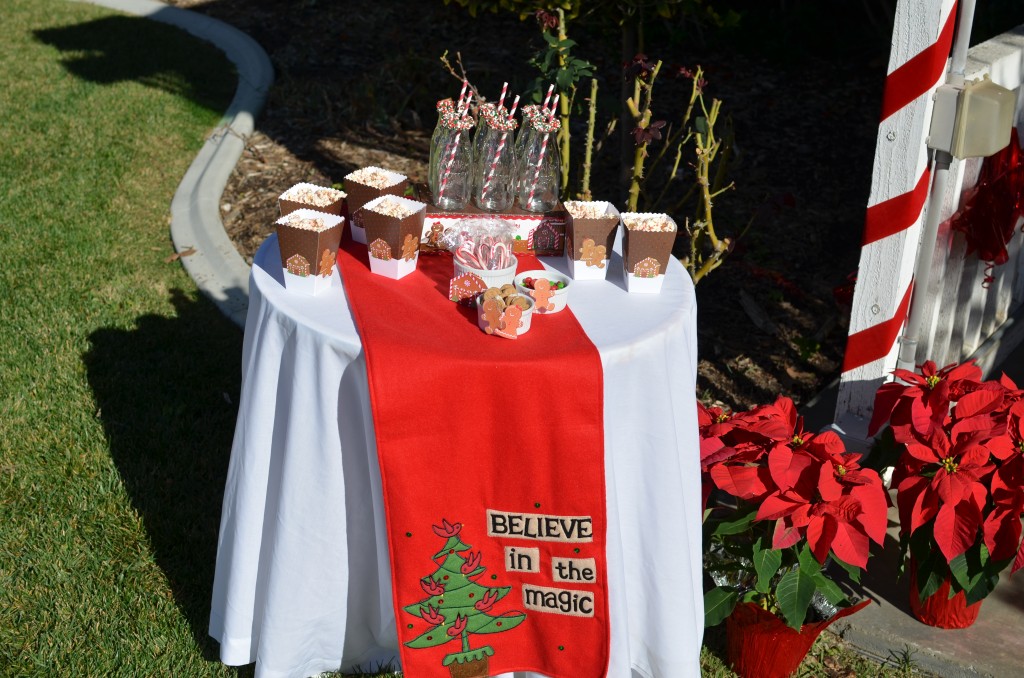 Chocolate milk in Milk Jars from Michaels was the beverage of choice. We melted white chocolate around the rim and dipped them in colorful Christmas Sprinkles.   We also had our talented designer hand paint a box to match our Gingerbread House Theme.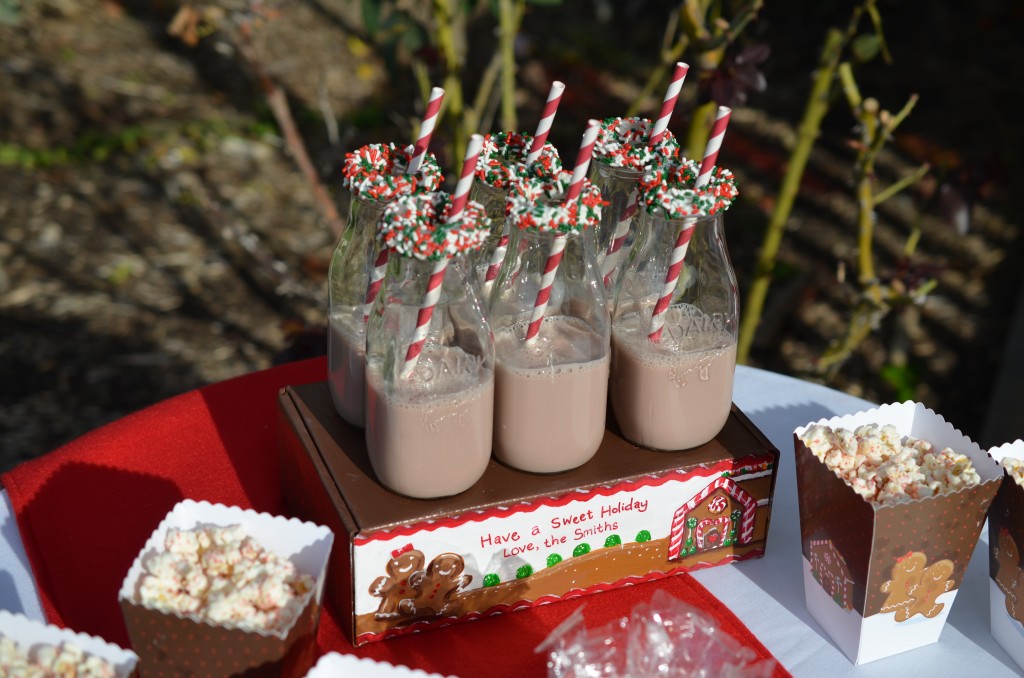 Our personalized Gingerbread House Popcorn Boxes  are new to our store and to kick off this product we made a holiday popcorn snack. We popped two bags of popcorn and melted 16oz of white chocolate. We added 12 candy canes that we crushed and mixed it all together. To finish it off, we added red sprinkles and let it cool on a cookie tray lined with parchment paper.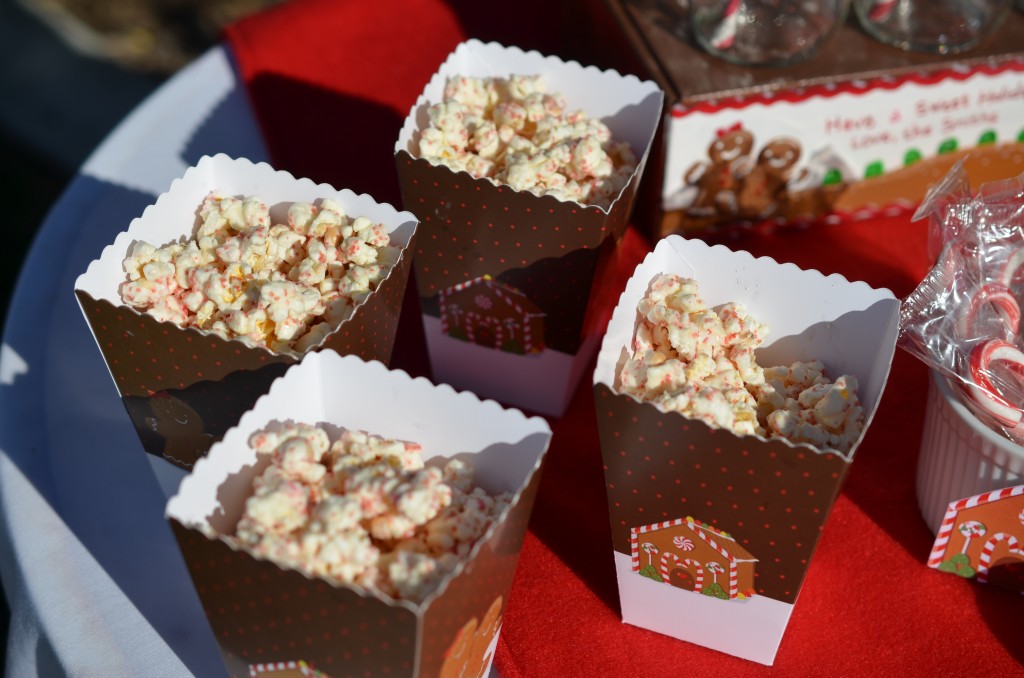 The girls decorating their houses. Let the festivities begin. All our hard work was over in two hours. We just love how everything pulled together so well.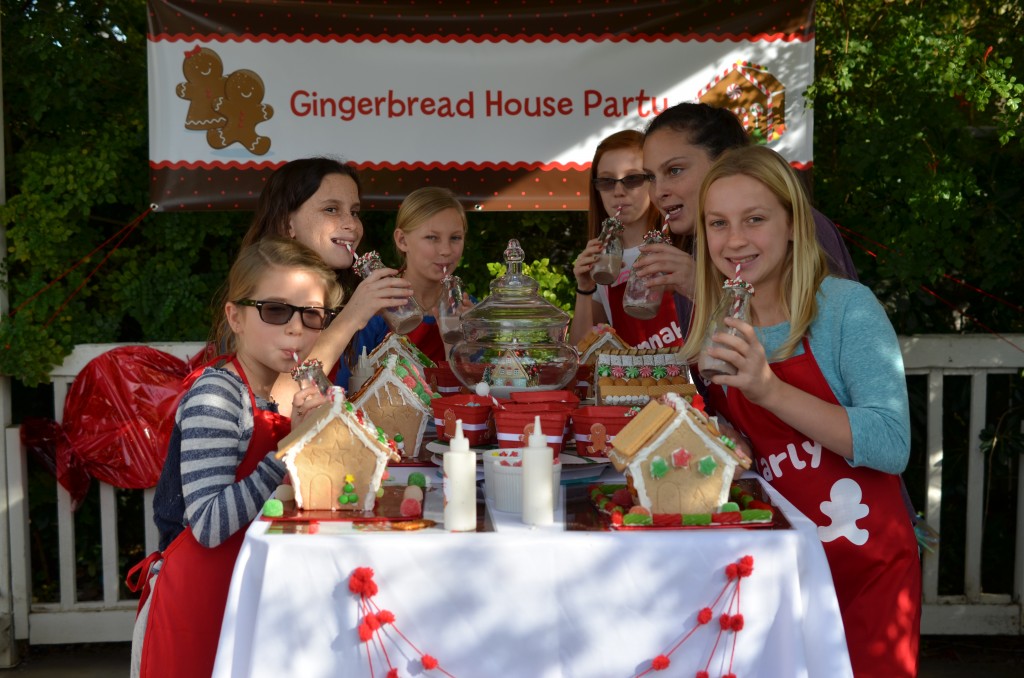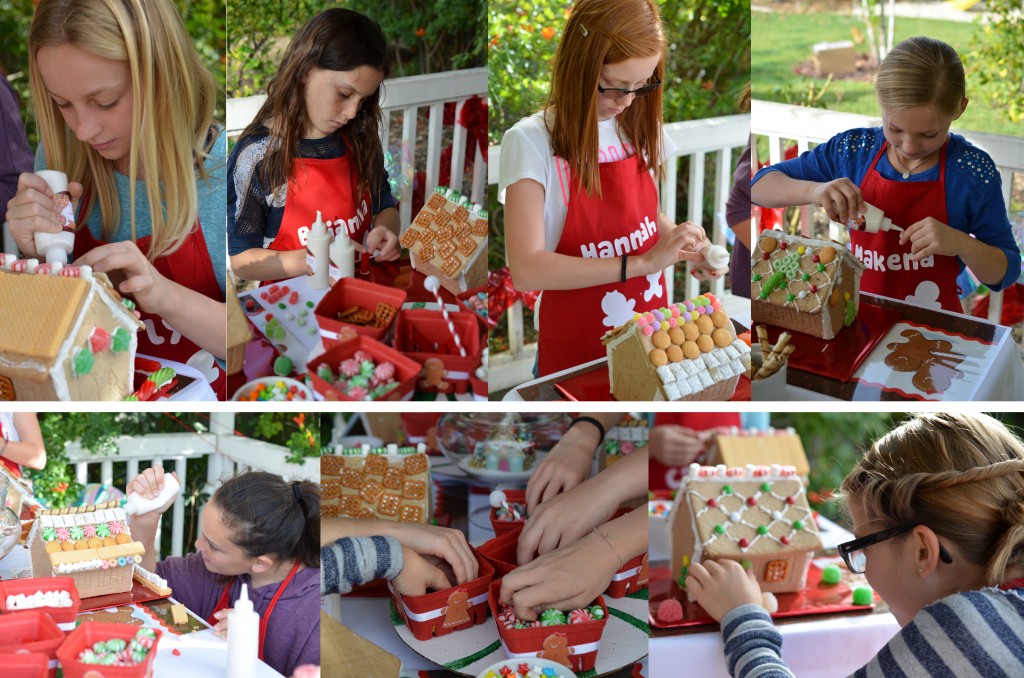 Here are all the girls showing off their masterpieces. Didn't they turn out great? We sure think so. Remember how I mentioned how neat they were… That's until I brought out the shredded coconut and they sprinkled it everywhere to look like snow…You might want to think twice when you're putting that bag in your shopping cart.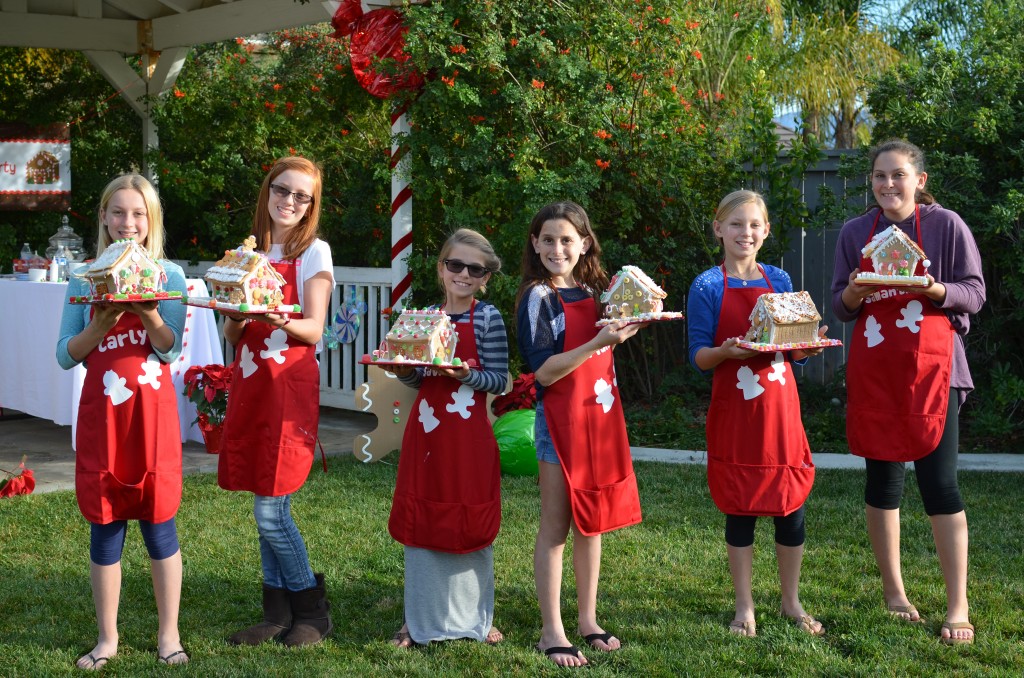 As always we hope you enjoyed browsing through our Gingerbread House Party. Check out all of our other products we offer for this Gingerbread House Theme.
Enjoy this holiday season, it's over way too soon. 2015 is just a few short weeks away.